Solutions
Partner of Choice for Cell and Gene Therapies
Accelerate your cell or gene therapies to market with tailored clinical and regulatory strategies and expert insights.
We understand how high the stakes are with your advanced cell or gene therapy program. Nothing is standard about study design, study conduct, or regulatory process in this specialized area. Veristat has successfully supported over 160 cell and gene therapy projects, with a global team of scientific experts who are adept at both strategy and execution across the clinical development journey.
Whatever the study's unique considerations – patients, products, process, follow-up, regulatory – Veristat can successfully get you through it.
Advanced Therapies Require Special Regulatory Focus
Maintaining strong relationships and interactions with key global regulatory agencies is critical. Our team has deep expertise in all accelerated pathways to approval, and in applying for and retaining special designations. To date Veristat has completed more than 25 cell and gene therapy submissions and helped our sponsors gain 3 marketing application approvals including BLA and MAA. Through ongoing regulatory engagement, we keep up with the constantly changing landscape for advanced cell and gene therapy products.
+
0
cell and gene therapy projects
+
0
regulatory submissions
0
Marketing Application Approvals to date
Veristat Cell & Gene Center of Excellence
Delivering Results Across a Complex Clinical Development Pathway— Getting You to Market Fast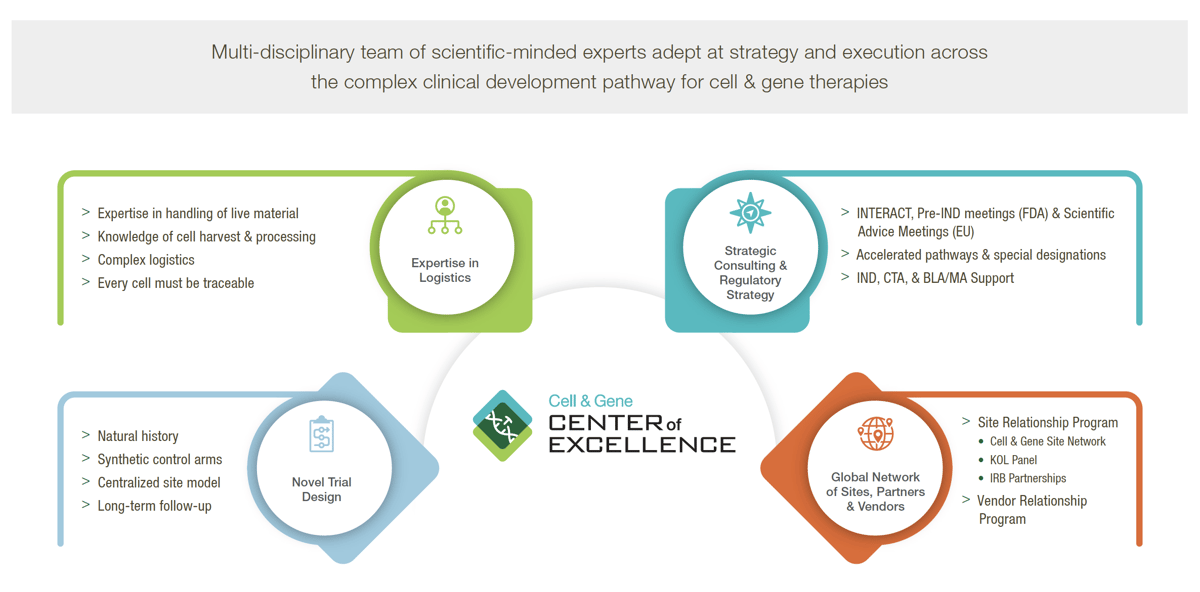 Experience Across Product Types
No matter your product, we can assist you in bringing it to the patients that need it. Veristat has extensive global expertise supporting gene therapies, cell therapies, and tissue engineering, including the first gene therapy approved in the western world.
Advancing Revolutionary Therapies Podcast: Cell & Gene
In cell and gene therapy development, nothing is standard. Whether you are just starting out— or have deep expertise, there is always something new to learn. Listen to ART: Advancing Revolutionary Therapies, a podcast series. Hear Veristat thought leaders draw on their specialized expertise to provide key takeaways to help steer your cell and gene therapy program in the right direction.


"The challenges of developing cell and gene therapies requires a committed and experienced partner. Cell and gene therapies offer uniquely curative potential for disorders that are intractable to other treatment modalities. They can save lives. The challenge now is to scale the opportunity they offer to their full potential."
Patrick Flanagan
Chief Executive Officer, Veristat
Life-changing Work with Unique Challenges
Each cell and gene therapy is different, with a complicated regulatory approval process that is full of unknowns.
Do not follow a classic route to market

Demand more complex clinical program planning

Can depend upon the right regulatory pathway

Often use non-randomized or natural history trial design

Require long-term follow-up rollover studies
Learn More with These Resources