Adapting to Rapidly Changing Clinical Trial Norms
Today, most drug developers face new challenges when running their clinical trials, including;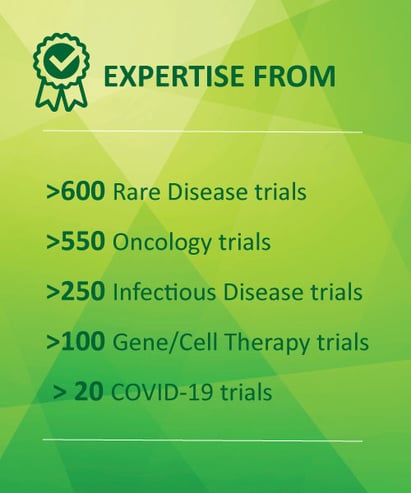 Trial design modifications due to changing regulatory guidance in response to COVID-19
Dynamically changing physical site access restrictions
Adoption of virtual technologies such as telemedicine, eConsent, eSource, etc.
Slower than normal patient recruitment
Introduction of at-home patient visits, local labs
Mitigation of data gaps due to a growing trend of earlier patient withdrawal
Revising statistical analysis plans due to changing patient populations
Deploying newer site models, such as central site model, hybrid site models (mix of on-site and remote), and fully remote site models
These trends continue to change as local conditions shift. Our teams, overseen by our COVID 19 Taskforce, are sharing lessons learned and rapidly adapting to these shifting conditions for running COVID-19 and non-COVID-19 trials in the current landscape.
Essential Support During Clinical Trial Conduct
Operationalizing a clinical development plan is highly complex, unique, and requires close collaboration between an interdisciplinary team of regulatory, clinical, medical, statistical, data, safety, and scientific experts. Our teams ensure that the processes are in place to advance through phase I, II, and III trials, even when planned or unexpected challenges arise.
Phase I, II and III Clinical Trial Operations

Clinical, Medical & Project Management Teams

Keep patient recruitment and retention on track
Monitor and support the clinical trial sites with training,
Manage the study timeline, risk mitigation, and overcome the challenges that arise
Provide safety management and reporting throughout trial

Data and Statistical Teams

Build, test, and deploy clinical trial database(s)
Perform training for site data collection
Rapid data cleaning for data review committees or interim analyses
Convert data to CDISC standards during or after trial conduct

Regulatory & Medical Writing Teams

Accurately write all the clinical trial documents including

Informed Consent Forms
Clinical Study Reports (CSRs)
Safety Narratives
Clinical Development Plans
Investigator Brochure and Patient Information Leaflets
The Right Resources to Conduct Clinical Trials
With Veristat, you get the right resources to run your phase I, II and III clinical trials in the rapidly changing environment today. We are ready and equipped to help you solve all the challenges that arise as you try to keep your programs on track. When you work with Veristat, you get:
A scientific-minded partner to navigate the unpredictable​, with regulatory, medical, and statistical insights
Quick adaptation of programs not performing
Learnings from other therapeutic development programs​
Confidence in patient safety, your clinical trial data, and accuracy of your endpoints​
An agile plan from first patient in through database lock
---
More Clinical Trial Conduct Support
Learn more about our specific clinical trial conduct services to keep your trial on track. ​