Services
Strategic Regulatory Consulting & Planning
Applying experience, knowledge, and insights to plan and implement regulatory strategies for successful interactions with the FDA, MHRA, EMA, and other Global Regulatory Agencies.
Preparing your strategic regulatory plan for your development program starts before and continues after preparing your Investigational New Drug (IND) application or Clinical Trial Application (CTA). As you look to transition your compound into clinical trials, you need the right partner to guide your planning and decision-making.
Our regulatory, scientific, and communications experts provide strategic regulatory planning, cross-functional operational support, and the practical, real-world knowledge of how to present your regulatory strategy, non-clinical toxicology plans, clinical trial design, and product development goals to the regulatory agencies.
Regulatory Expertise Throughout the Entire Product Development Lifecycle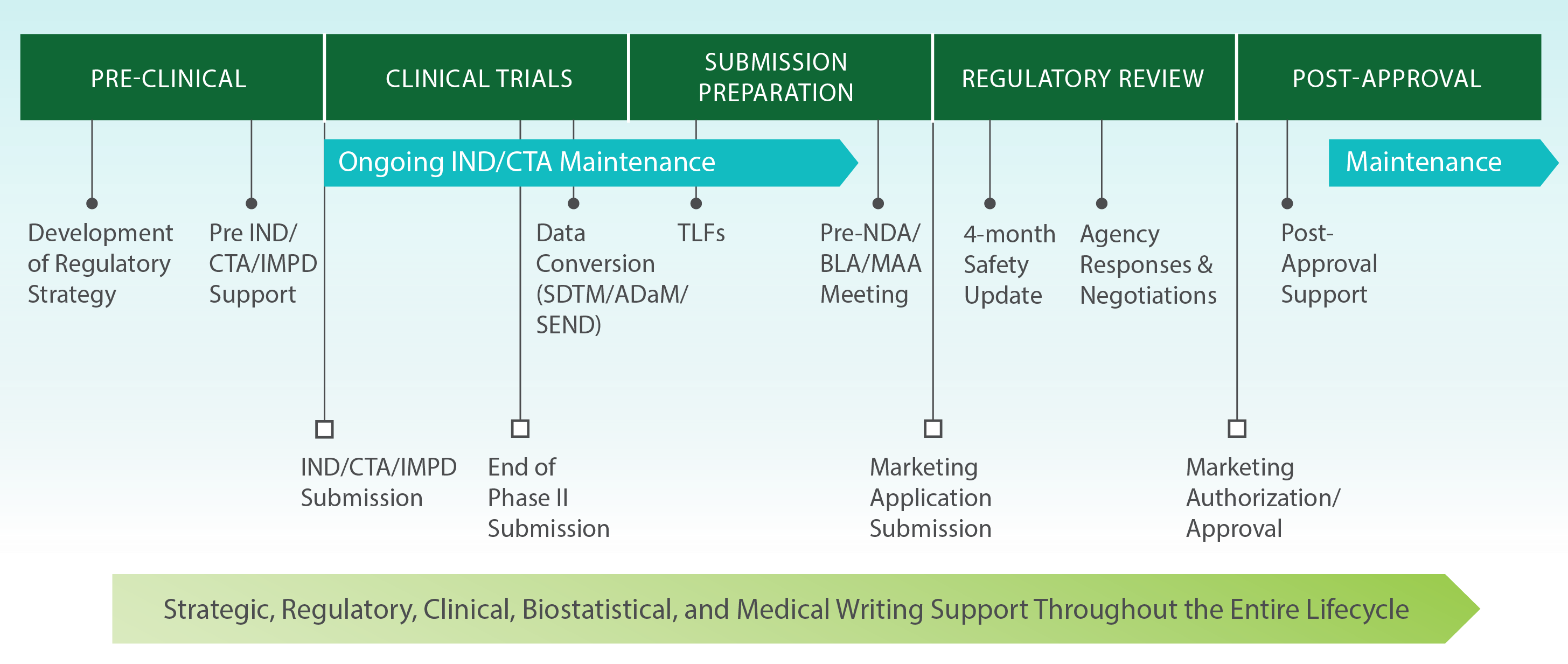 Regulatory Consulting for FDA & Global Regulatory Agencies
Our Regulatory experts provide regulatory guidance for product and program development through to the successful interactions with the FDA or other global regulatory agencies. We focus on helping you with:
Strategic Program Planning
Develop the regulatory strategy and submission plan to support both US and global registrations
Explore the possibility of

pursuing expedited or alternate regulatory pathways for faster approval, and writing the corresponding applications
Create non-clinical development plans
Assist in Contract Manufacturing Organization (CMO) selection, write and review full Chemistry, Manufacturing and Controls (CMC) sections for submissions (Module 3, Module 2.3), and perform overall gap analysis
Write and review the clinical development plans including trial design, sample size calculations, protocols, investigator brochures, electronic Case Report Forms (eCRFs), Statistical Analysis Plans (SAP) or Interim analysis plans (IAP)
Draft regulatory agency, board meeting, or investor presentations of the clinical development, CMC, regulatory and/or statistical plans

Scientific-Minded Expertise
Veristat's Regulatory, statistical, medical/safety and communications experts prepared 120 INDs/CTAs in the past 3 years.
IND/CTA Writing, Gap Analysis, and Publishing
Protocol & Investigator Brochures
Administrative documentation (module 1)
General investigational plan
CMC Writing
Non-Clinical
Publishing of INDs and CTAs to regulatory agencies
Regulatory Agency Meeting Preparation & Support
Develop strategy and questions for regulatory agency interactions
Write and submit meeting request letter and briefing packages
Facilitate communications with FDA as regulatory representative or US Agent
Prepare regulatory agency meeting logistics (face to face meetings for rehearsals, transportation to FDA, bar codes for FDA building entry, foreign visitor forms, etc.)
Attend Advisory Committee meetings
Track FDA clinical, Non-clinical, and CMC development requirements from pre-IND through to marketing application and beyond
Broad Range of Regulatory Consulting and Application Preparation Expertise
Our teams have prepared regulatory strategies, developed clinical program designs, and supported applications (INDs, NDAs, BLAs) for numerous programs to treat blood disorders, cancers, cardiovascular disease, endocrine disorders, genetic disorders, respiratory diseases, woman's health issues and wound healing.
We will help you answer questions such as:
Am I ready to begin preparing my IND?
How many phase III studies do I need?
How many patients will I need overall?
When and how often do we need to meet with FDA?
Have we conducted enough toxicology studies to support entry into humans?
Would my product qualify for the 505(b)(2) pathway?
What are the benefits of a special protocol assessment concurrence with FDA?
And, much more
Learn More with These Resources