Therapeutic Areas
Oncology Clinical Development Expertise
Cancer Clinical Development is Complex, Our Experts Can Help
Veristat has extensive experience supporting 700 oncology projects and marketing applications in the United States, Europe, and Japan. We help oncology developers navigate the complexities of designing and executing their cancer trials in the most highly competitive and complicated market. Our extensive expertise includes traditional cancer treatments, devices/diagnostics as well as specialized therapies including vaccines, gene therapies, cell therapies, and immunotherapies.
Oncology Experience
With cancer being the second* leading cause of death today, it's no wonder that Veristat's clients are prioritizing their pipelines to develop life-extending cancer therapies.
Veristat's teams work on a spectrum of amazing cancer treatments including drugs, vaccines, and diagnostics.
Cancer clinical development comprises >35% of the work we do
Cancer treatments account for 50% of the marketing applications that our teams have prepared,
In the past 5 years, 10 oncology products were approved for

NDAs

and jNDAs that we prepared
*Source: http://www.cdc.gov/nchs/fastats/leading-causes-of-death.htm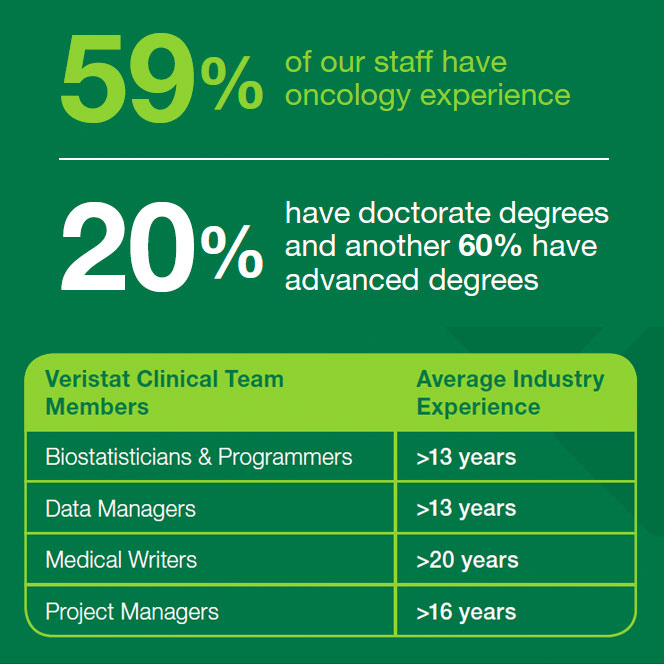 Experience in Blood Cancers & Solid Tumors
Hematologic Malignancies/Blood Cancers

Acute Myeloid Leukemia (AML)
Metastatic Non-Hematologic Malignancies
B-Cell Lymphoma
Multiple Myeloma (MM)
Blastic Plasmacytoid Dendritic Cell Neoplasm (BPDCN)
Myelodysplastic Syndromes (MDS)
Chronic Lymphocytic Leukemia (CLL)
Myeloid Leukemia
Cutaneous T-Cell Lymphoma (CTCL)
Myeloproliferative Neoplasm
Diffuse Large B-Cell Lymphoma (DLBCL)
Non-Hodgkin's Lymphoma (NHL)
Essential Thrombocythemia
Peripheral T-cell Lymphoma (PTCL)
Follicular Lymphoma
Richter's Transformation (RT)
Hodgkin's Lymphoma
Systemic Mastocytosis (SM)
Mantle Cell Lymphoma
T Cell Lymphoma
Mantle Cell NHL
Waldenstrom's Macroglobulinemia
Solid Tumor Indications

Advanced/Metastatic Solid Tumors
Melanoma
Biliary Cancer
Non-Small Cell Lung Cancer (NSCLC)
Bladder Cancer
Ovarian Cancer
Brain Cancer
Pancreatic Cancer
Breast Cancer
Prostate Cancer
Cervical Cancer / Dysplasia
Rectal Cancer
Cholangiocarcinoma/Bile Duct
Renal Cell Carcinoma (RCC)
Colorectal Cancer
Small Cell Lung Cancer (SCLC)
Gastric Cancer
Synovial Tumors
Head & Neck Tumors
Thyroid Cancer
Hepatocellular Carcinoma (HCC)
Urothelial Carcinoma
Human Papilloma Virus (HPV) Cancers
Vulva Cancer
Customized Oncology Solutions
Cancer Diagnostic Imaging

Lymph Node Imaging - MRI Contract Agent
Mammography for Breast Cancer Diagnosis
Lymph Node Imaging for Prostate Cancer
Chemotherapy Side Effects

Chemotherapy-induced Alopecia
Chemotherapy Induced Pain Management
Chemotherapy-induced nausea and vomiting (CINV)
Chemotherapy Induced Peripheral Neuropathy
Solutions Span Early to Late Phase
Our solutions span the entire clinical development life-cycle - and are offered as a comprehensive, all-inclusive solution or as functional support. We offer strategic guidance for informed decision-making, operational support to mitigate trial risks, the statistical knowledge to prove safety and efficacy, the medical oversight to ensure patient safety, and the regulatory expertise to achieve approval success.