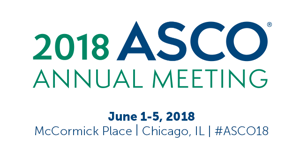 Veristat is looking forward to attending and exhibiting at the largest global industry event where the newest discoveries in cancer research are revealed, the 2018 ASCO Annual Meeting. This year's meeting focuses on the theme of "Delivering Discoveries, Enabling the Reach of Precision Medicine", which is the new trend driving oncology clinical research today.
Find us in the exhibit hall at booth #16080, connect with Veristat there. We provide effective strategies and impactful solutions to ensure the success of early phase cancers studies is what we do. Regardless of your end goal, we'll lead you down the right path.
Whether you need strategic guidance planning your IND submission, writing your protocol or developing the right statistical design, rely on Veristat to design and initiate your clinical trial by applying our knowledge from 350+ oncology clinical trials.
In the past 5 years alone, our teams have supported over 180 oncology clinical trials, including dozens in rare cancers. We've worked on early phase clinical trials for cancer vaccines, gene therapies, immune-therapies, chemotherapies and supportive care compounds.
As you progress into pivotal trials our submission experts will help you start planning and preparing your marketing application(s).
Our teams have prepared and written Marketing Applications for over 15 oncology products that were submitted to the FDA, EMA and Health Canada in the past 5 years.
Schedule A Meeting
Schedule a time to speak with Veristat at the event on how we can put our oncology clinical trial and regulatory submission experience to work for you. Fill out the form on the right.
Read Our Success Stories