Visit the Veristat booth #4106 at 2019 ASCO Annual Meeting taking place on May 31 - June 4, 2019.
Veristat offers superior expertise to overcome cancer clinical development challenges – planning and mitigating risks throughout oncology clinical trial design and execution is at the core of what we do.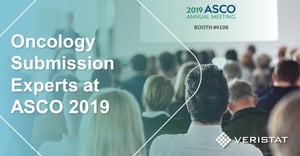 Our experienced teams have helped sponsors with more than 390 oncology studies for solid tumors, hematologic malignancies, and diagnostic imaging tools. Additionally, we've prepared more than 30 marketing applications that were successfully submitted to the US Food & Drug Administration (FDA) and the European Medicines Agency (EMA) for cancer treatments, including many rare cancers.
We have a wide range of cancer clinical experience, from trial design to patient recruitment and site engagement to submission. We would love the opportunity to help you with your current or next cancer trial.
Schedule A Meeting
To speak with our experts at ASCO, fill out the form on the right side of this page. Learn how we can help you advance your next cancer clinical trial or program to successful operational outcomes.
---
Explore Related Key Services & Insights:
Cancer clinical trials are highly complex, take longer to run and are the costliest types. Veristat will advance your cancer therapy through all phases of clinical development through to market launch and beyond - Contact us or explore more of our insights and experience running cancer programs: