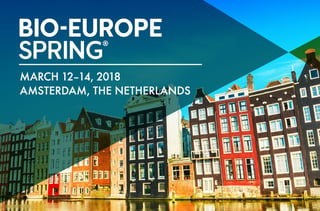 Veristat will be exhibiting at BioEurope Spring 2018 for the first time! We've attended this event for the past 2 years but are excited to be at booth #34 this year. Whether you are at this event to seek funding or need to find the right clinical partner to get your trial started, reach out to Veristat.
Schedule A Meeting with Veristat
To speak with Veristat at BioEurope Spring 2018, you may either request a meeting through the conference partnering system or fill out the form on the right hand side of this page. Veristat focuses on supporting start-up and small biotech firms with strategic guidance, clinical and biometrics expertise and regulatory experience to progress your medical therapies through the clinical development & regulatory submission process. We will customize our solutions to help you meet your short and/or long-term goals. Learn more about our services.
Learn More About Veristat
Are you looking to start a new trial or bring your current trial to the United States for FDA Approval? We can help you from IND to NDA Approval and anywhere in between. Partner with us for regulatory, statistical or medical consulting, engage our clinical operations and biometrics teams to design and run your trials, and work with our data standards, and medical writing teams to prepare your regulatory submission package.