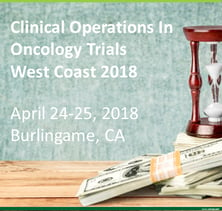 Rising to the daily challenges of targeted oncology trials, Veristat joins leading pharma and biotech professionals working in the oncology clinical research at the Clinical Operations in Oncology West Coast 2018 conference.
Insights and real-life success stories will be discussed on these cancer clinical trial challenges:
How to differentiate your oncology trial in a competitive landscape attracting both physicians and patients
Transforming the Oncology Drug Development Process
What to expect from a cancer clinical trial from an FDA representative
Strategies to overcome patient recruitment and study start-up challenges with First-in-Man (FIM) studies
Establishing strategies for vendor management to strengthen collaboration and achieve goals NEW for 2018 throughout your oncology trial
Exploring adaptive designs to accelerate clinical development and increase success in oncology trials
Effective methods for patient engagement in oncology trials to improve patient-centricity and retention
Meet Veristat at Booth #8
Providing effective strategies and impactful solutions to ensure the success of early phase cancers studies is what we do. Regardless of your end goal, we'll lead you down the right path.
Whether you need strategic guidance planning your IND submission, writing your protocol or developing the right statistical design, rely on Veristat to design and initiate your clinical trial by applying our knowledge from 350+ oncology clinical trials.
Schedule A Meeting
Schedule a time to speak with Veristat at the event on how we can put our oncology clinical trial and regulatory submission experience to work for you. Fill out the form on the right.
Read Our Success Stories