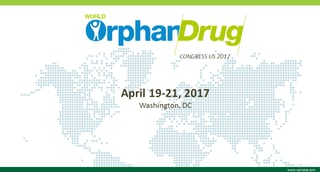 Join Veristat and over 1000 big pharma, biotech, payers, and patient advocate groups at the World Orphan Drug Congress 2017.
Topics will include the following:
Future of Orphan Drugs
Pricing & Reimbursement
Approval & Access
Gene Therapy
Scientific Innovation
Biosimilars
Why Veristat is Attending
Veristat is passionate about helping clients accelerate their rare disease therapies for unmet medical needs through the clinical development process. With over 350 million rare disease sufferers worldwide today, the urgency for more treatments is paramount. Veristat is proud to have worked on over 235 rare disease treatments so far!
Nearly a third of our clinical trial work is for rare and ultra rare diseases! Learn more about our rare disease experience.
Schedule A Meeting
To meet up with Veristat at this event or to connect with us at anytime, fill out the form on the right side of this page. If you are attending the World Orphan Drug Congress 2017, you can request to connect with Eric Monroe or Kate Bentley through the conference partnering system.
We look forward to connecting with you soon!