Veristat is excited to be exhibiting again this year at the DIA Annual Meeting 2018 taking place from June 24-28, 2018 in our headquarters hometown of Boston, MA.
Learn why small to mid-sized biopharma prefer to partner with us. Meet our newest team members at DIA. Tell us what keeps you up at night? We are focused on solving your toughest clinical trial and regulatory submission challenges. Ask about our regulatory submission track record, put our expertise and lessons learned to work for you. Discover how you can use any of our teams to be your team, whether you need monitors, data managers, SAS programmers, medical writers, etc, our teams will work with you as if they were your team.
And, remember to stop by our booth early each day to get your Veristat Beach Bag! We are debuting a new one this year, so you will have to come by the booth to see it!
Meet up with Veristat at DIA 2018!
There are many ways to get in touch with Veristat at DIA:
Pre-arrange a meeting by filling out the form on the right-hand side of this page
Contact us through the DIA Global App
Stop by our booth #1542
See Us At the Medical Heroes Appreciation 5K Run & Walk – Boston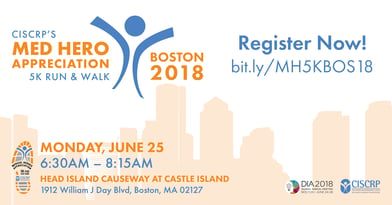 Veristat is proud to sponsor CISCRP's Medical Hero Appreciation 5K Run/Walk in Boston this year. We will have a Veristat table at the start/finish line to speak with our team or grab a granola bar.
Learn More About Veristat
Are you looking to start a new trial or expand your clinical program? Partner with us for regulatory, statistical or medical consulting, engage our clinical operations and biometrics teams to design and run your trials, and work with our data standards, and medical writing teams to prepare your regulatory submission package.
Get to know our full suite of clinical development & regulatory submission services
Familiarize yourself with our Therapeutic Expertise
Read our success stories
Or, contact us to start a conversation about your current goals and challenges.
See you at DIA!!!!