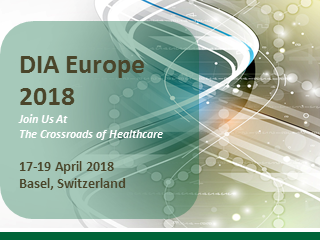 Join Veristat and other drug development specialists at the DIA Europe Annual Meeting 2018 taking place in Basel, Switzerland. This event allows for the open collaboration of ideas and solutions needed to drive the progression of drug development. It brings together regulatory agencies, sponsors, patients and advocates to meet at the "crossroads of healthcare", the theme at this year's meeting.
The event will cover the following main topics:
Can Regulators and HTA Bodies Create Synergies for Patient Access?
What are Necessary Steps towards Outcome-Driven Health Systems?
Medicines of the Future: What Will Innovation Need and Bring?
How Can Better Outcomes Be Enabled by Big Data?
What is the Future of Pharmacovigilance?
What Can Stakeholders Expects from Clinical Trial (Development), Transparency and Medical Information?
A New Era for Medical Devices and Diagnostics. How Is The Impact?
Drug Development and Regulatory Approval - Reference Points around the Globe or Globalisation?
How Can We Enable Clinical Research in Europe Further?
Meet Veristat at DIA Europe 2018 at Booth #114
Whether you need strategic guidance planning your CTA/IND submission, writing your protocol or developing the right statistical design, rely on Veristat to initiate your clinical trial.
Similarly, if you are looking to expand your trials to the United States, we have the expertise working with the FDA and performing all aspects of your early phase trials in the US and Canada.
Schedule A Meeting
To schedule a meeting with Veristat fill out the form on the right hand side of the page.
To learn more about how we work and think, read some of our recent success stories.