Attend our Innovation Theater Presentation on Decentralized Clinical Trials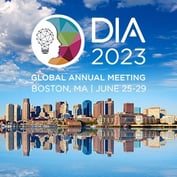 Veristat Sr. Manager of Data Management Pauline Justumus and Merative Product Management Lead Walker Brandham will present, "Decentralized Clinical Trials are here to stay – But how do we work to execute them smoothly?" at the Innovation Theater on 27 June at 9:45 AM. Join us for a discussion around best practices for implementing DCTs and the importance of using a fully unified EDC/CDMS to lessen the burden on users, sites and patients.
About the Meeting:

The DIA 2023 Global Annual Meeting invites industry, regulatory government, academics, and patients to network, problem-solve, and discuss global and local challenges facing the life sciences community. Hosted in Boston, DIA 2023 will amplify different perspectives while highlighting expertise globally to reimagine current processes that better enhance health and well-being.
DATE: 25 June - 29 June 2023
LOCATION: Boston, MA
Meet our Speakers:
Senior Manager- Data Management, Veristat
Pauline started her career as dental surgeon before becoming a global public health professional. She worked for 5 years with diverse global health research organizations in Europe and North America at both corporate and field levels.
She has global experience in the not-for-profit, private sector and academic institutions, allowing her to mobilize expertise and competencies for clinical research and operational purposes. This includes management of international randomized clinical trials, data management, research regulatory and data quality.
Pauline joined Veristat 2 years ago as a Manager in Data Management and is now managing the North America DM team, working on various diseases such as Oncology, Rare Diseases and COVID-19.
Product Management Lead, Merative
Walker Bradham is the Product Management Lead for Zelta, Merative's clinical trials solutions business. He brings 20 years of experience defining, designing, and deploying web applications to the marketplace, and leads the product roadmap for all EDC/CDMS and eCOA offerings. A champion of user empowerment through SaaS principles and AI, he works to provide intuitive tools to solve complex problems in health IT and clinical research. He holds a BS in business management from North Carolina State University.
Want to Learn More about the DIA Annual Meeting?
https://www.diaglobal.org/en/flagship/dia-2023/about/conference
Want to Speak with Veristat today?
---
Meet Veristat. Learn More.