Let's Drive Insights Into Action!
The DIA 2017 Annual Meeting's theme this year is "driving insights to action" and Veristat is ready to take that challenge!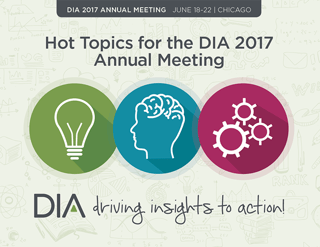 Join Veristat, thousands of drug developers and supporting partners at the upcoming DIA 2017 Annual Meeting taking place from June 18-22, 2017 in Chicago, IL. This year's conference features many top trending healthcare topics including Big Data/eHealth, disruptive innovations in drug development, improving patient engagement, navigating the regulatory approval challenges, accessing rare patient populations and more.


Visit Veristat Booth #1345
Visit the Veristat booth #1345 to meet our team and further discuss why you should engage us to be your clinical development and regulatory submission partner. Our teams will help design and implement the clinical and biometrics components of your clinical trial(s). And, will help you prepare your regulatory submission documents and provide support for agency meetings.

Here are just a few other reasons to visit Veristat at DIA:
Improve your decision making with the implementation of adaptive design trials. Learn how we recently helped a client reach a go/no-go decision quickly by reading our case study.

Discover how we've worked on 13% of the NDA submissions approved by the FDA over the past 3 years. Our regulatory submisssion experience is quite impressive. Learn more.

Advance your career at Veristat! View openings.
Get your Veristat Beach Bag!
Schedule A Meeting
Fill out the form on the right or contact us through the DIA Global App to schedule a meeting with us at DIA!