Join Veristat Data Managers at the No. 1 Clinical Data Management Event, SCDM 2018! The event takes place this year on September 23-26 in Seattle, WA.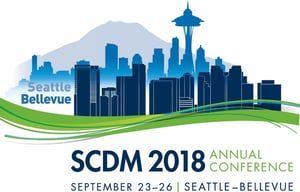 Veristat understands the importance of data quality in your clinical trial. Our Data Management team works closely with the Clinical Operations and Biostatistics teams to provide end to end data management solutions tailored to your clinical trial goals.
The conference will present topics emphasizing the importance of therapeutic knowledge in data management as well as showcasing new technologies within the service area. Veristat stays up to date with the ever evolving technologies in data management. We will design, create, and lock your database efficiently in a way that is specific to your therapy area and clinical trial data needs. Our team will also employ QC techniques to make sure that your data is high quality and up to agency standards.
Schedule A Meeting
Schedule a Meeting to find out how we can meet your data management needs for your next clinical trial or regulatory submission.
Learn More
Or, read our latest insightful perspective on overcoming data analysis difficulties during NDA/MAA submission preparation.
---
Explore Key Related Services: