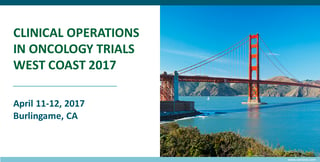 Join Veristat and oncology drug developers at the Clinical Operations in Oncology Trials West Coast 2017 event. The event aims to explore innovative strategies in patient recruitment and retention, site engagement and vendor management for better cost efficiency and high data quality in oncology trials.
The agenda includes topics that Veristat is well versed in such as:
Finding the right patients for your trial in the crowded oncology space to avoid timeline delays and speed up market launch
Maintaining successful partnerships with your CROs to manage the complexity of immuno-oncology studies
Understanding operational staff's needs to improve their engagement in your trial
Overcoming regulatory challenges unique to the conduct of immuno-oncology trials
Evaluating what is needed for developing fit-for-purpose strategies to meet the growing size of trials and company
Keynote: Optimizing recruitment rates by developing data and collaboration for targeted patient population
Visit Our Booth #3
Meet up with Veristat while you are at this event! Veristat's experienced teams have helped clients run over 335 Oncology studies for solid tumors, hematologic malignancies and more. Additionally, we've worked on over 20 US and European regulatory submission projects for cancer treatments, including many rare cancers.
Don't forget to stop by our booth #3 to meet with our experts to talk about the challenges you are facing with your clinical trial design, execution and regulatory submission projects.
Schedule A Meeting
Fill out the form on the right to schedule a specific time to meet with Jessica Young or Kimberly Britt at the conference.