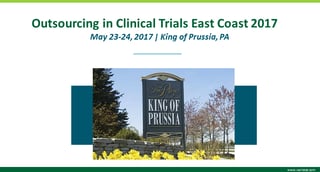 Join Veristat and members of the clinical operations and clinical development outsourcing community at the Outsourcing in Clinical Trials East Coast 2017 event.
Our experts will be ready and available to discuss effective strategies for outsourcing and clinical trial operations to ensure that your trial runs smoothly and within budget.
The conference will cover many exciting topics including:
Clinical Trial Optimization - Enhancing partnership efficiency and transparency through a shared intelligence strategy and platform
Debating what should be considered at the start of a trial to build effective partnerships
Considering how best to engage with all stakeholders to develop trial strategies that fit the needs to all parties and is most beneficial to patients
Establishing an end-to-end approach to business operations for clinical research to allow for more effective forecasting and budgeting
Find Veristat In the Exhibit Hall at Booth #12
Stop by our booth #12 to meet Veristat, find out what we are all about and speak with our experts to talk about the challenges you are facing with your clinical trial design, execution and regulatory submission projects.
And, don't forget to enter to win! We will raffle off a Garmin VivoActive Watch during the last refreshment break of the show!
Schedule a Meeting
Fill out the form on the right if there is a specific time you would like to meet with Jessica Young or Eric Monroe at the conference.
We hope to see you there!