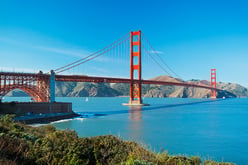 Join Veristat and other clinical innovation providers at the Outsourcing in Clinical Trials West Coast 2018 event to learn about the latest clinical strategies, data-driven approaches and early phase development solutions to jump start your clinical programs.
---

February 21-22, 2018
Burlingame, CA
---
About The Event:
There will be exciting discussions about the following:
Exploring new paradigms in clinical trial operations, partnerships and outsourcing to discern what new challenges need to be addressed
Developing strategies to enable your vendor to become an extension of your in-house team to improve collaboration and engagement (check out a recent case study on the exact topic)
Developing best practices for RFP to ensure you can effectively compare vendors to select the best match for your study
Exploring the current regulatory perspective on new clinical trial technologies to identify how the industry can move towards greater innovation in clinical research
Exploring lessons learned from previous early phase studies to develop best practices moving forward
Developing strategies for finding the right partner to conduct your early clinical development study
Talk with Veristat at Booth #5
Veristat will be exhibiting at this event. Stop by our booth #5 to tell us about your current challenges? Do you need help developing your IND or NDA submission strategy? Are you struggling with writing your protocol? Not sure where to find your best patient population? Let's talk to discuss your challenges.
Secure a time slot to meet with Veristat at this event to learn how we can help you get your clinical programs up and running, with full regulatory support.
Fill out the form on the right of this page to secure your time slot now.
Get A Free Registration For OCT West
Did you know that if you are a Director, VP or C-suite at a biopharma or sponsor company, you can attend this event for free?
Get The Case Study | Learn How Veristat Works Well With Growing Firms
Click here to read our recent case study of how Veristat worked with a growing firm over the last decade and is now still partnering with that firm to help them prepare their MAA submission. Or, learn about more of success stories.