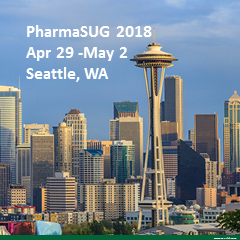 Veristat is excited to be attending PharmaSUG 2018, the premier event of for statistical programmers, statisticians, data managers, researchers, and others who analyze data from clinical trials for the preparation of regulatory submissions or marketing applications.
This event covers topics that our integrated clinical, data management, biostatisticians and statistical programmers work with everyday at Veristat. The topics include:
Advanced Analytics: The implementation of statistical methods and advanced analytics in medicine discovery stage and reporting results from all phases of clinical trials (including PK/PD, exposure-response modeling, pharmacogenetics), public health studies, and healthcare research.
Applications Development: The development and use of programs, systems, utilities, and productivity tools designed to assist us in doing more in our daily jobs, plus an overview of the code and software development techniques used in the process.
Data Standards: Review of industry data standards such as CDISC SDTM and ADaM, data exchange with partners and vendors, data management, controlled terminology, versioning, data quality, implementation strategies, pilots and case studies.
Data Visualization: Exploring new and novel ways to create reports and graphs and discussion of techniques for representing data to communicate effectively.
Real World Evidence: The use of software tools in healthcare research areas that focus on patient-reported outcomes, registries, risk evaluation and mitigation strategies, and other post-submission assessments.
Submission Standards: Discussion of global submission industry standards, best practices and implementation strategies for deliverables such as: define.xml, SDRG, ADRG, eCTD folder content, including the use of metadata repositories and other tools to automate submission documentation.
Meet our Experts at PharmaSUG 2018
Members of our Biometrics and Statistical Programming teams will be in attendance of this informative event. Fill out the form on the right hand side of the page to schedule a meeting with Veristat onsite or anytime.
Get Our Latest Case Study
Download our latest success story to learn how utilizing an external biostatistics team worked for a growing biotech company.