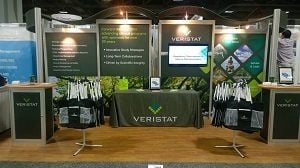 Join Veristat and nearly 7000+ life sciences professionals at the Drug Information Associations (DIA) Annual Meeting taking place from June 26-30, 2016 in Philadelphia, PA. The conference features over 175 topics in 25 tracks featuring the latest innovations, trends, challenges and solutions faced by drug developers today.
Visit Veristat's Booth #1136
Stop by Veristat's booth to meet our team, talk with us about your current challenges and don't forget to pick up a Veristat bag! We are revealing a new Veristat bag this year. Stop by early to get yours!
Be On the Lookout Our Latest News
At or just prior to DIA, Veristat will be sharing some exciting news about our service growth and geographic expansion. Be sure to follow us on LinkedIn or Twitter to hear the news when it breaks and stop by our booth to hear about it first-hand from our team at DIA!
Schedule a Meeting with Veristat Booth #1136 at DIA 2016
Veristat can help you manage your entire clinical trial, starting with program design, regulatory agency engagement and study start-up activities. We will identify and qualify the top sites for patient recruitment success. Our oversight continues with clinical operations and biometrics services through to regulatory submissions support and agency representation. We have teams on the ground throughout North America, Europe and Australia to support your programs.
Fill out the form below to schedule a meeting with Veristat at DIA Annual Meeting to learn more.
[gravityform id="8" title="false" description="true"]