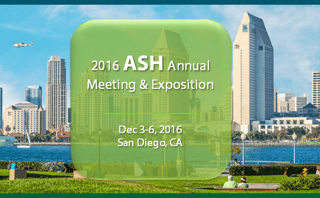 Join Veristat at the ASH Annual Meeting & Exposition, the world's largest hematology conference geared towards clinicians, researchers and scientists who are looking to further the understanding, diagnosis, treatment, and prevention of blood disorders. Today, the ASH annual meeting attracts more than 20,000 attendees from all over the world. This year there are more than 3,000 oral and poster presentations.


Members of Veristat's senior leadership team will be in attendance at ASH, including:


Additionally, our new Chief Medical Officer, Jim Roach, MD will be joining the team at ASH.
Schedule A Meeting
Veristat has helped clients run hematology clinical trials and prepare regulatory submissions for novel drugs, vaccines, and diagnostics to detect and treat common and rare blood cancers, hemophilia, beta thalassemia and anemia. Fill out the form on the right to schedule a time to speak with Veristat at ASH about the challenges you are trying to overcome with your hematology program.