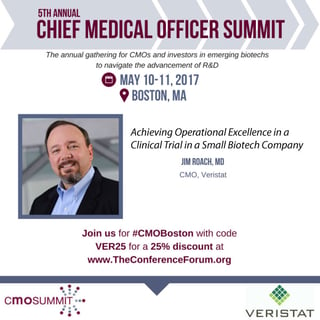 Join Veristat at the 5th annual Chief Medical Officer Summit, the distinguished gathering for CMOs and investors in emerging biotechs for help and support in advancing Drug Development, taking place May 10-11 in Boston.
Attend The Panel Session:
Veristat is joining the conversation again this year. Veristat's Chief Medical Officer will be speaking on a panel with other industry experts on a panel session titled:
Achieving Operational Excellence in a Clinical Trial in a Small Biotech Company
How to build a successful development team?
Who do you hire early to achieve your goals?
How do your hires impact culture and revenue?
What role is your first hire?
What is the most important hire?
How to streamline your activities?
When is outsourcing the answer?
What resources do you really need in-house?
Choosing your outsourcing partner
How do biotechs manage the relationship with their outsourcing partner?
How do you collaborate for exquisite project delivery?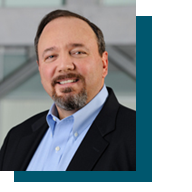 Jim Roach, MD, FACP, FCCP
Chief Medical Officer
Veristat
Attend the session on
Wednesday, May 10 at 1:00 PM
Schedule A Meeting With Veristat
Don't forget to stop by Veristat Booth #3 at the event. We invite you to meet with our experts to talk about the challenges you are facing with your clinical trial design, execution and regulatory submission projects.
Fill out the form on the right if there is a specific time you would like to meet with Veristat at the conference.

Save 25% Off Your Registration
As a friend of Veristat, you can receive a 25% discount off the cost of your registration for this event. Visit the conference registration page and enter the discount code: VER25
We hope to see you there!