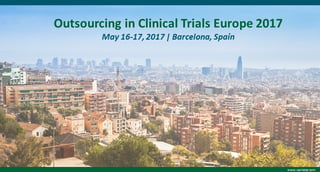 Join Veristat and clinical operations & outsourcing professionals across Europe at the 7th Annual Outsourcing in Clinical Trials Europe 2017 conference to discuss the contemporary challenges in clinical development. This year's meeting focuses on discovering optimal clinical operation strategies and revealing new solutions for reducing timelines in clinical trials.
The agenda includes topics that Veristat is well versed in such as:
Investigating the preferred provider model to identify its reliability between sponsors and CROs
Considering patient recruitment for small populations
Deciphering a strategy for finding the right CRO partner for your clinical trial
Leveraging research networks to accelerate orphan drug development
Building a shared standard operational model with your service partner to achieve the same goals
Assessing risk effectively – is Risk Based Monitoring (RBM) the answer?
Navigating novel approaches to patient recruitment
Outlining strategic ways of conducting a strategy for rare and orphan disease clinical trials
Considering the influence Brexit will have for European companies in clinical development
Visit Veristat at Booth #47
Stop by our booth #47 to meet Veristat, find out what we are all about and speak with our experts to talk about the challenges you are facing with your clinical trial design, execution and regulatory submission projects.
Schedule a Meeting
Fill out the form on the right if there is a specific time you would like to meet with Veristat at the conference.
We hope to see you there!