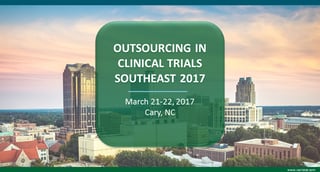 Veristat is excited to join clinical research professionals to discuss the key challenges faced by small to mid-sized biotech and pharma companies at the Outsourcing in Clinical Trials Southeast 2017 event. Speaking topics will span both clinical outsourcing and clinical operations challenges such as vendor sourcing, contract development, regulatory compliance, patient enrollment, budget adherence and more.
About The Conference
The conference will cover many exciting topics including:
Maximizing your Phase I and Phase II data to ensure a smooth Phase III

Outsourcing in Oncology – Overcoming Common Pitfalls and Celebrating Success

Considering adaptive design when outsourcing studies to vendors to improve decision making throughout phases

Considering patient and site perspectives when designing a study to increase enrollment and retention rates
Visit Our Booth #8
Meet up with Veristat while you are at OCT Southeast! Don't forget to stop by our booth #8 to meet with our experts to talk about the challenges you are facing with your clinical trial design, execution and regulatory submission projects.
Schedule A Meeting
Fill out the form on the right to schedule a specific time to meet with Jessica Young or Derek Luther at the conference.