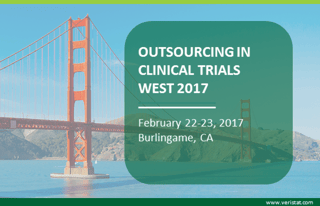 Veristat is excited to join over 700 clinical research professionals from the bay area to discuss strategies for clinical outsourcing and address the clinical operations challenges that arise throughout the clinical development and submission process at the Outsourcing in Clinical Trials West Coast 2017 conference.
About The Conference
The conference will cover many exciting topics including:
Exploring the Impact of Effective Outsourcing Models to Enable Effective Partnership
What Does a Patient-First Enrollment Model Look Like?
Investigating Effective Project Planning and Budgeting Strategies to Promote Effective Cost Control for Clinical Trials
Promoting the Idea of a True Clinical Trial Team, Involving All Internal and External Stakeholders for the Benefit of Your Trial and Ultimately the Patient
Investigating the Need for and Application of Disease Natural History Data in Rare Disease Orphan Drug Development
Exploring Cost Optimization Strategies for Partnering with CROs from a Small to Mid-Sized Company Perspective
Establishing In-Depth Vendor Selection Processes to Enable a Strong Vendor Partnership to Be Built from the Outset
Visit Our Booth #7
Meet up with Veristat while you at OCT West! Don't forget to stop by our booth #7 to meet with our experts to talk about the challenges you are facing with your clinical trial design, execution and regulatory submissions.
Schedule A Meeting
Fill out the form on the right to schedule a specific time to meet with Jessica Young or Kimberly Britt at the conference.