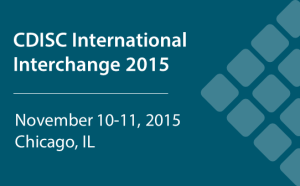 Join Veristat at the 2015 CDISC International Interchange conference which is themed "Smarter Research to Unlock Cures".
The conference will cover many topics that Veristat is well-versed in, including:
The Work We Do Saves Lives, But We Must Do More
The Analysis Data Model (ADaM) and Study Data Tabulation Model (SDTM)
A CRO's Journey to Innovation through CDISC Standards
CRF to SDTM: A Practical CDISC Implementation
Stop by our booth #30 to speak with our data managers, data standards programmers, biostatisticians and statistical programmers about your CDISC needs.
Why Choose Veristat for your CDISC Standardization Needs?
Veristat has performed SDTM migration for nearly 200 studies. We can help you:
Covert raw data from clinical trials to CDISC compliant SDTM datasets
Develop ADaM datasets in addition to integrated analysis of safety and efficacy
Design CDASH compliant forms & databases for streamlined data management and reporting
Veristat has never had a submission rejected by the FDA for lack of standardized structure compliance.
Schedule A Meeting
To schedule a meeting with Veristat at CDISC or anytime, click here.