Join Veristat and nearly 2500 regulators, clinical, safety, and research professionals in health care and drug development from around the world at the 29th DIA Annual Euromeeting 2017.
Here we will discuss the biggest challenges, gain new insights and be inspired to accelerate the drug development and regulatory submission process. All of this is centered around the meeting theme of "Translational Healthcare from Bench to Bedside - And Back."
This is the first year that Veristat is participating in the DIA Annual Euroemeeting. Just last year expanded our capabilities and service offering to Europe and we are excited to introduce Veristat at this meeting.
Visit Our Booth #D12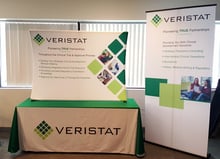 Stop by our booth #D12 to meet Veristat, find out what we are all about and speak with our with our experts to talk about the challenges you are facing with your clinical trial design, execution and regulatory submission projects.

And, don't forget to enter to win! Each day during the afternoon refreshment break, we will raffle off a Garmin VivoActive Watch!
Enter to win daily!
Schedule A Meeting
Fill out the form on the right to schedule a specific time to meet with Veristat. We will have staff from both the US as well as our European operations including our local Glasgow office.