Outsourcing in Clinical Trials West Coast 2016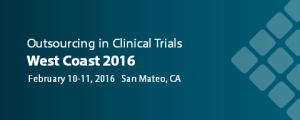 Date: February 10 - 11, 2016
Location: San Mateo, CA
Join Veristat at the upcoming Outsourcing in Clinical Trials West Coast 2016 Conference. This event brings together Bay-Area representatives from pharma, biotech, medical devices and industry service providers to discuss the latest challenges, trends and innovation in clinical operations, outsourcing and development.
The event will cover many topics that Veristat is well-versed in including:
Developing your outsourcing strategy as your trial progresses to accommodate the needs of a growing trial
Incorporating RBM into clinical studies to demonstrate the key challenges, risks and benefits of this strategy
Prioritizing site engagement as a strategy to support smooth clinical operations and effective running of your trial
Special considerations for managing Immuno-oncology Studies- a new paradigm
Exploring best practice approaches to outsourcing when working in the rare diseases arena
Optimizing the preferred partnership model and utilizing multi-trial contracts to capitalize on this way of outsourcing
Ensuring the future of the trial is taken into account when developing the protocol so a plan can be developed early
And More...
Schedule a Meeting
Don't forget to stop by Veristat's booth to speak with Cindy Henderson, David Stark and Naeiry Vartevan about your upcoming needs in 2016.
Click to schedule a meeting with us at the event or anytime that works for you!