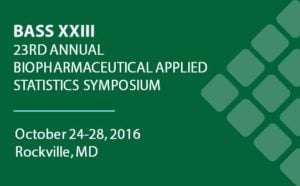 Join Veristat during the last three days of the BASS XXIII program for a short course titled:
Adaptive Clinical Trial Design: Method and Practice
Short Course runs from (Oct., 26 @ 1:00PM – Oct. 28 @ 12PM).
Short Course Instructors:

Mark Chang, PhD
Strategic Statistical Consulting
Veristat

Robin Bliss, PhD
Manager of Biostatistics
Veristat
Short Course Abstract:
In the past decade, the pharmaceutical industry experienced a paradigm shift from classical to adaptive clinical trial design. The high NDA failure rate and the increasing cost in pharmaceutical R & D are primary motivations behind the newer innovations in study design and overall program strategy. Biostatisticians, in collaboration with physicians and scientists in pharmaceutical R & D, have been a driving force in this revolution in the pharmaceutical industry.
Adaptive trial design development was motivated by the specific purpose of having an efficient trial design method for drug development. However, the controversies surrounding it touch the foundation of statistics in general. In this short course, we will start with an overall view of the adaptive design concepts, the impact of adaptive approaches on our thinking, the review of various adaptive designs, and the unified theory of hypothesis-based adaptive designs. We will discuss how to design and monitor different adaptive trials and how to use currently available software tools to get hands-on experience in adaptive design planning. We will debate the implementation of adaptive design on case studies and share experiences of how we, as statisticians, can to be more critical, innovative, and inferential as key players in adaptive design development and study conduct. Attendees will be granted to access to the SAS and R code and a free 6-month license of ExpDesign Studio for adaptive design.
Learn More
To learn more about the conference, short course to register now, click on: