Navigating the Patient Experience When Pivoting to a Virtual Model Mid-Study
On-Demand Webinar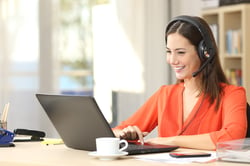 Completing a natural history study for ultra-rare diseases can be critical to understanding the disease and its progression. The data from the natural history can be essential to informing the design and outcome selection of an interventional study. We explore the challenges of designing and running an extraordinary complex natural history study - with both retrospective and prospective data – which then had to pivot to virtual patient visits mid-way through the data collection process.
---
Our experts will share their experience, successes, and lessons learned on:
The need for and challenges of a Natural History study of Canavan Disease

Case Study: Strategies for addressing challenges of a unique study design

Pivoting to a virtual & in-person hybrid model during COVID-19




Watch Now: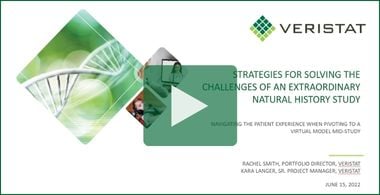 ---
Meet the Speakers

Rachel Smith
Portfolio Director, Veristat
Rachel has worked in clinical research for over 10 years working across all clinical phases (I-IV) with a focus on complex advanced therapy trials. She's worked closely with innovative biopharma across different therapeutic areas. Rachel is currently the Portfolio Director of global cell and gene therapy programs, and the lead for the Veristat Global Cell and Gene Center of Excellence. She has a BSc (Hons) Biochemistry from the University of Warwick, is a Registered Member of the Institute of Clinical Research and has been published in the European Journal of Drug Metabolism and Pharmacokinetics and Lambert Academic publishing.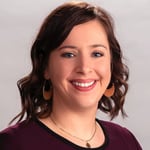 Kara Langer
Senior Project Manager, Veristat

Kara is a clinical operations professional with 13 years' experience, specializing in rare disease, gene therapy, COVID-19, and Oncology. Prior to Veristat, Kara held several roles at Covance before becoming a Project Manager. Kara is currently a Senior Project Manager at Veristat, dedicated to promoting subject safety, generating high-quality data, and maximizing study efficiency. She has a Bachelor of Science from the University of Wisconsin-Madison in Natural Sciences-Genetics and Anthropology.
---
Learn More