Veristat Resource Library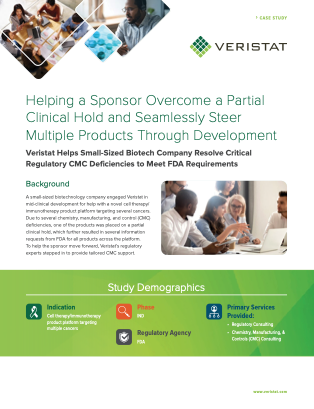 Helping a Sponsor Overcome a Partial Clinical Hold and Seamlessly Steer Multiple Products Through Development
A small-sized biotechnology company engaged Veristat in mid-clinical development for help with a novel cell therapy/immunotherapy product platform targeting several cancers. Due to several chemistry, manufacturing, and control (CMC) deficiencies, one of the products was placed on a partial clinical hold, which further resulted in several information requests from FDA for all products across the platform.

To help the sponsor move forward, Veristat's regulatory experts stepped in to provide tailored CMC support. The sponsor was able to move the program forward from the partial clinical hold and steer the manufacturing and analytical programs for all products across the platform through to development, preventing any further clinical delays.
download
Explore Our Key Related Services
Please fill out this form to access your resource.
Helping a Sponsor Overcome a Partial Clinical Hold and Seamlessly Steer Multiple Products Through Development