Ranked as one of the Top 50 Fastest Growing Private Companies in Massachusetts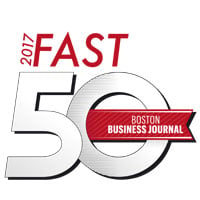 SOUTHBOROUGH, MA – May 15, 2017 – Veristat, a full service Clinical Research Organization (CRO), announced today that it has been recognized for a second consecutive year as one of the top 50 fastest-growing private companies in Massachusetts, taking the #40 slot.
"Veristat is honored to be recognized again by the Boston Business Journal as one of the top 50 fastest growing private firms in Massachusetts," stated Patrick Flanagan, Chief Executive Officer of Veristat, "Our growth is fueled by client demand for our strategic and scientific expertise. Over the last year, we added 60 talented team members to assist our clients; guiding them through the design and planning of clinical development programs, the execution of clinical trials and successfully navigating the regulatory submission process. Additionally, we expanded our operations into Europe, opened our 5th office located in North Carolina and launched a strategic consulting business unit. We are proud to be a strategic contributor to the biotech industry. The collaborations we participated in over the last 12 months have led to 4 FDA drug approvals, bringing therapies to market for patients with conditions which previously had no treatment options available."
The Boston Business Journal's "Fast 50" list includes the top 50 privately held businesses in Massachusetts that recorded the fastest revenue growth from 2013 through 2016. This year, nearly 160 privately held companies were evaluated to determine the rankings. This year's rankings and full list were published by the Boston Business Journal on May 12, 2017.
About Veristat:
Veristat is a consultative clinical research organization (CRO) that is committed to partnering with pharmaceutical, biotechnology and medical device firms to advance their therapies through the clinical development and regulatory submission process. Veristat helps clients solve the unique and complex challenges that arise when trying to accelerate therapies along the development pathway. Veristat provides experience-based strategic decision-making, the operational efficiencies to manage and monitor international trials, the biometrics expertise to collect, analyze & report clinical trial data to various regulatory agencies, and the therapeutic and medical proficiency to mastermind the entire process. Ultimately, we guide our clients to market success so that their therapies become available to improve and save people's lives. For more information, visit www.veristat.com.
Veristat Contact:
Gillian Dellacioppa, Marketing Director
gillian.dellacioppa@veristat.com or 508-306-6336