Veristat's Growth Positively Impacts Our Ability to Help Clients Achieve Regulatory Approval of their Life-Changing and Life-Saving Therapies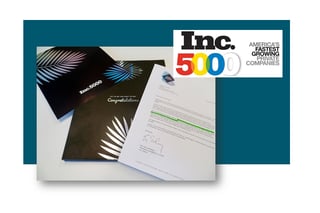 SOUTHBOROUGH, MA – August 21, 2017 – Veristat announced today that it has been recognized for a third consecutive year by Inc. Magazine as one of America's fastest-growing private companies. Veristat joined the list in 2015.
"Veristat is honored to be named on the prestigious Inc. 5000 list for a third consecutive year," stated Patrick Flanagan, Chief Executive Officer of Veristat, "Our growth is fueled by client demand and our passion for helping clients accelerate their life-enhancing and life-saving therapies through the clinical development and regulatory approval process. I am proud to be part of the Veristat team. Every person at Veristat is committed to guiding our client's programs to success and exhibits an unwavering commitment to improving people's lives every day."
Veristat is a full-service Clinical Research Organization (CRO) that helps pharmaceutical and biotechnology firms design, conduct, analyze and submit the results of their studies for regulatory approval. Over the last year, Veristat added over 60 talented team members to assist our clients through the design and planning of clinical development programs, the execution of clinical trials and navigation of the regulatory submission process. Additionally, we launched a strategic consulting business unit to provide regulatory, clinical, medical and statistical consulting support to our clients throughout the planning and duration of the clinical development program. We also expanded our operations into Europe and opened our 5th office located in North Carolina during 2016.
Patrick Flanagan added, "We are proud to be a strategic contributor to the biotech industry. The collaborations we participated in over the past year has led to 9 recent drug approvals on behalf of our clients. Our contribution to these life enhancing programs is a point of pride for every Veristat team member."
Earlier this year, Veristat was recognized by the Boston Business Journal on its "Fast 50" list of the 50 fastest growing private firms in Massachusetts. Today's Inc. 5000 ranking is yet another accolade of Veristat that measures and endorses the growth of companies across the United States.
Since 1982, Inc. Magazine has ranked the fastest-growing private companies in the United States and published the results on its annual Inc. 5000 list. The 2017 Inc. 5000 is ranked according to percentage revenue growth when comparing 2013 to 2016. To learn more and to view the 2017 Inc. 5000 list visit: https://www.inc.com/inc5000/list/2017.
About Veristat:
Veristat is a consultative clinical research organization (CRO) that is committed to partnering with pharmaceutical, biotechnology and medical device firms to advance their therapies through the clinical development and regulatory submission process. Veristat helps clients solve the unique and complex challenges that arise when trying to accelerate therapies along the development pathway. Veristat provides experience-based strategic decision-making, the operational efficiencies to manage and monitor international trials, the biometrics expertise to collect, analyze & report clinical trial data to various regulatory agencies, and the therapeutic and medical proficiency to mastermind the entire process. Ultimately, we guide our clients to market success so that their therapies become available to improve and save people's lives. For more information, visit www.veristat.com.
Veristat Contact:
Gillian Dellacioppa, Marketing Director
gillian.dellacioppa@veristat.com or 508-306-6336