Veristat Supports the Upcoming Boston Cycle for Survival Event
Join Veristat in the Fight Against Rare Cancers: Donate Today!


On Saturday, February 27, 2016, Team Veristat will ride in the Boston Cycle for Survival Event taking place at The Equinox in Boston, MA. This will be Team Veristat's 2nd year participating in the event, where we will have 16 Veristat riders on 4 bikes with a team goal of raising $20,000 for the fight against rare cancers. Every day, our teams work hard to support the many pharmaceutical and biotechnology firms who are developing and testing new treatments, but there is still more research to do which is why we support Cycle for Survival.
Please JOIN THE BATTLE by making a donation today!
About Cycle for Survival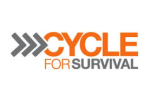 Cycle for Survival is the national movement to beat rare cancers. About half of all cancer patients are fighting a rare cancer -- Leukemia, lymphoma, pancreatic cancer, bladder cancer, ovarian cancer, and all pediatric cancers are just some of the many rare forms of the disease. These patients often face limited or no treatment options. Since 2007, Cycle for Survival has raised over $50 million through its signature high-energy, indoor, team cycling events; funding pioneering rare cancer research led by Memorial Sloan Kettering Cancer Center. Together with the movement's founding partner, Equinox, Cycle for Survival has supported over 100 innovative clinical trials, research studies, and major research initiatives.
"100% of every donation funds rare cancer research."
Please consider making a donation to team Veristat and help us raise money to fund research for curing rare cancers.
JOIN THE BATTLE!