Apply Our Knowledge For Planning and Running COVID-19 Development Programs
Our teams have supported more than 30 COVID-19 trials for vaccines, antivirals, antiseptics, and treatments for cytokine storm syndrome. Our very first milestone for the COVID-19 pandemic response took place on 24 March 2020, we helped a sponsor get their database live for a phase I COVID-19 vaccine trial in 10 business days so they could begin patient enrollment immediately. We repeated this success for multiple other studies. Additionally, we have established a cross-functional COVID-19 task force that meets weekly to share knowledge, the challenges and solutions that our programs are facing, such as how Remdesivir is affecting antiviral trials or how patients are being followed up if they are released from the hospital days earlier than planned.
Learn more about this and other key lessons learned and strategies for success in conducting COVID-19 programs:
Explore some of our additional relevant knowledge: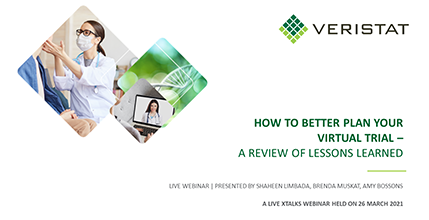 Webinar Presentation
Get the webinar presentation to see lessons learned and recommendations for designing protocols that enable flexibility in your virtual trials' ...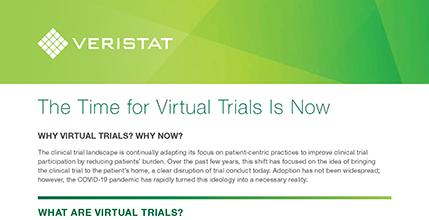 Infographic
Download the infographic to learn how virtual trials are defined, the tool kits required to run a virtual trial, examples of what the patient experience can look ...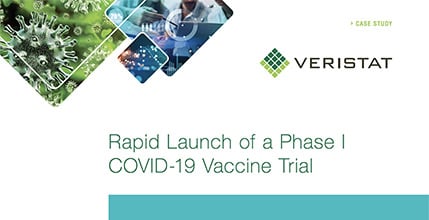 Case Study
Learn how the Veristat team quickly mobilized to help a sponsor get their clinical trial databased designed and launched in two weeks in order to achieve ...
Let Us Help You Fast Track Your COVID-19 Clinical Trials
We understand that the stakes are high no matter where you are in your development program. The stress, anxiety, and uncertainty about ongoing, new, or COVID-19-related clinical programs is overwhelming. We have the agility and scientific-minded experts to help you navigate these uncertain times.
Schedule an introduction by completing the form below: