Veristat will be attending Clinical Trials Europe 2019, the conference formerly known as the Partnerships in Clinical Trial Europe conference, for the first time this year.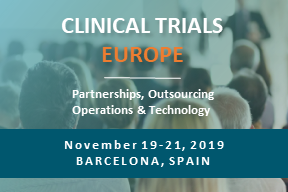 Consider Meeting with Veristat
Veristat is a US-based CRO known by reputation for providing biostatistical, clinical and data management excellence in the conduct of clinical trials in the US and Europe. More importantly, Veristat supported 12% of all FDA NME Approvals in 2018, and to date, has worked on 75 distinct global marketing application submissions.
Clinical Trials in the United States and Navigating FDA Requirements
Whether you are thinking of bringing a new product into the clinic in the US or just expanding your program to include US-based sites, you'll need to know how to navigate the FDA guidelines. Some questions to consider:
Is your IND filed yet?
Do you have any upcoming FDA meetings?
Are you considering any FDA Expedited pathways such as Fast Track Designation, Qualified Infectious Disease Program (QIDP), Breakthrough Therapy Designation or Regenerative Medicines Advanced Therapy (RMAT)?

Do you have an Authorized Regulatory Representative and US Agent?
Will you be filing an NDA? Who is doing the data standardization? Running the statistical programming and outputs? Writing the Modules?
Who is Publishing your NDA over the electronic submission gateway?
Will you get Accelerated Approval (AA) or Priority Review Designation?
Veristat experts can help you navigate all these questions and provide the right solutions.
Request A Meeting with Veristat
Are you attending Clinical Trials Europe?
We can meet there. Either fill out the form on the right hand side of the page or use the conference portal to request a meeting with Aqeel Ashraf. Aqeel is our relationship development professional with over 12 years experience matching sponsors with clinical development and regulatory solutions to improve the efficiency advancing products through clinical development to approval.
Not attending Clinical Trials Europe?
We can meet anytime. Simply fill out the form on the right-hand side of this page and we'll reach out to schedule a meeting. Speak with our FDA regulatory experts to get your questions answered today.
---
Explore Key Related Solutions & Expertise
Do you have your regulatory road map with the FDA all figured out? Examine our expertise for developing your regulatory planning.
Need to meet with FDA? We'll help prepare for your FDA meeting and can serve as your Authorized Regulatory Representative and US Agent for your pIND, IND, NDA, or BLA.
View our FDA Meeting Types Infographic to learn about Type A, Type B and Type C meetings – with specific insights into meeting timing, purposes and examples of each type throughout development.
Explore the types of Expedited Pathways that FDA has to offer. Download the presentation.
Search our full range of solutions to help you accelerate your compound's development:
Strategic Consulting |
Biometrics |
Clinical Operations |
Medical Affairs |
Regulatory Affairs