Visit the Veristat booth #1002 at the World Orphan Drug Congress 2019 taking place from April 10-12, 2019 in National Harbor, MD.
Rare disease trials are as rewarding as they are challenging. However, with more than 350 million rare disease sufferers worldwide today, the urgency for more treatments is paramount.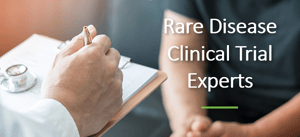 At Veristat, we're passionate and work tirelessly to learn and become experts in every unique and rare disease indication we work in. To date, we've worked on more than 300 clinical projects and have prepared more than 35 regulatory submissions for rare disease therapies.
We have a wide range of rare disease clinical experience, from trial design to patient recruitment and site engagement to submission. We would love the opportunity to help you with your next rare disease trial.
Schedule A Meeting
To speak with our experts at the World Orphan Drug Congress, send us a meeting request in the event App or fill out the form on the right. Find out how we can help you advance your next rare disease clinical trial, program or regulatory strategy to successful outcomes.
---
Explore Related Key Services & Insights:
Veristat can help you overcome the most complex challenges of conducting rare and ultra-rare disease research across a breadth of therapeutic areas - Contact us or explore more of our rare disease resources: