For anyone who follows this blog with even moderate consistency, it is probably clear that Veristat is a growing organization. It is hopefully just as apparent that we are a group who tremendously values and fiercely protects our culture.
Veristat….values their culture…check. Most companies say that, right?
Veristat…fiercely protects their culture…that's a little different. What's so important that it brings us to our defenses? Well, whether you consistently follow this blog or not, it may help to better understand who we are.
You can start to figure us out through our website:
Veristat is a consultative Clinical Research Organization (CRO) that is committed to partnering with clients in order to advance their therapies through the clinical development and regulatory submission process. Ultimately, we guide our clients to market success so that their therapies become available to improve and save people's lives.
Cool. CRO, consultative, helping clients with clinical development and regulatory submissions. What else?
Veristat is the only CRO that is committed to building TRUE Partnerships with clients. You can have all the medical, scientific, clinical and statistical expertise in the world, but if you can't work well together, you will not achieve success. At Veristat, building TRUE Partnerships is what makes us successful. A TRUE Partnership is built upon a foundation of:

Trust through transparency
Respect of culture
Understanding of goals and expectations
Evolving for change
Ok, I'm listening. Who doesn't like a little partnership, transparency, respect, understanding, and agility?
Only, this isn't just a list of reasons one might want to partner with Veristat. These are also many of the principles and values the Company was founded upon more than 20 years ago. You see Veristat is nearly equal parts growing, able, agile CRO and small, local company. It's a place where employees are people first, often friends. Veristat is a somewhere you can be yourself, where you can be respected, where you can collaborate with others to reach the best possible outcomes. And don't just take my word for it.
We recently wrapped our 2016 Employee Engagement Survey, and here's what our own employees had to say about what we do best:
"I love the teamwork here at Veristat. I am never left hanging."
"Senior management actively listens to suggestions and acts…"
"There is a great sense of community at Veristat. Everyone works together and is willing to help each other get the job done."
"There is a great culture of mutual respect…"
"Veristat has great managers who are consistently supportive and helpful."
"Veristat is exceptional at making each person feel valuable and that their opinion matters."
"The culture is engaging and open. People care about your wellbeing."
"Everyone is very friendly and the culture is more laid back, but everyone is still very motivated to get their work done."
"Morale is high and there really isn't any backstabbing, like I've seen at other employers."
Are you starting to see why we feel a bit protective? As the Company grows, we can't lose this. We can't stop being team players, stop listening, stop respecting, or stop caring. In fact, some might argue we have to work harder than ever to keep doing it (read: "some" being yours truly…guest blogger, fellow Veristatian, and someone just a wee bit invested in our Talent + Culture).
So how does this have anything to do with that Zuckerberg quote at the top of this page? Easy. As your friends and family share their hopes and dreams for what this new year will bring their way, keep us in mind.
If items atop their list are things like:
a new job!
a job closer to home
working for a place I feel respected and valued
working somewhere I know I am making a difference
…then you might urge them to check us out. Tell them about this random blog post you read about a local company dedicated to clinical research, to TRUE partnerships with clients, to a company culture that is stitched together with threads like respect, collaboration, and community. Let them know that those referred to jobs are happier, stay longer, and are more successful overall. That nearly 25% of our new hires come from referrals (and number that is only growing) and that they're just the sort of people we want more of on our team.
Click here to view Veristat's open positions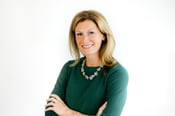 Lindsey Lukis is the Senior Director, Talent and Culture at Veristat, responsible for the people related programs and initiatives that allow Veristat to achieve its strategic growth plans. Read more about Lindsey and other members of Veristat's Leadership Team.