Veristat Hosts Its 2017 Annual International Company Meeting

Last week, Veristat gathered nearly 200 team members from multiple countries for our annual International Company Meeting. What better a place to host our team meeting than Gillette Stadium, home to the five-time Superbowl championship winning New England Patriots.
Like so many great teams, Veristat team members spend most days working hard, focused on achieving goals. And like so many great teams, every now and then we need to take some time to socialize with one another, reflect on our successes, and team build.
Reflecting On Veristat's 2017 Success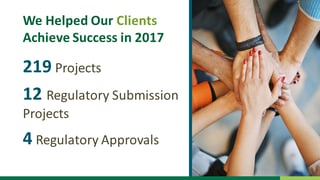 We kicked off the day with a brief company update, reviewing how our work has impacted our clients and so many patients around the world. We also touched upon our impact in our panel discussion later in the day as well, where our project teams discussed our internal team roles and shared stories of how our teamwork has positively affected our clients. When we're at the office, it can be easy to get caught up in the day-to-day operations. Our International Meeting is a great occasion to revisit our purpose, celebrate our contributions to the greater good, and remind ourselves of the difference we make each and every day.
An Inspiring Keynote Presentation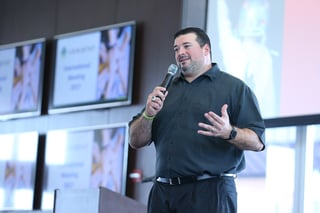 We were fortunate enough to have Joe Andruzzi, former New England Patriots offensive guard and founder of the The Joe Andruzzi Foundation, deliver the keynote presentation. Joe shared his personal story with Veristat, taking us on his journey of highs and lows. He grew his football career on a team that supported him through the successes of winning three Superbowls and through his darkest and sickest days battling an aggressive cancer. Joe is now cancer free and has dedicated himself to helping other patients as they battle cancer and their families who struggle to meet life's day-to-day challenges. His story and his passion inspired us all.


How We Contribute to Client Success
We continued the day with a speaker from one of Veristat's long standing clients, who discussed the successes and challenges her company is looking to overcome with their gene therapy pipeline. Our client not only talked about the science and day-to-day challenges, but also shared how our support is critical to helping them test their therapies that improve and extend the lives of individuals suffering from rare genetic disorders. This was a time to reflect upon how important our contributions are to the success of our client's teams, and how putting our teams together can only strengthen our abilities to improve lives.
Team Building | The Spaghetti Marshmallow Tower Challenge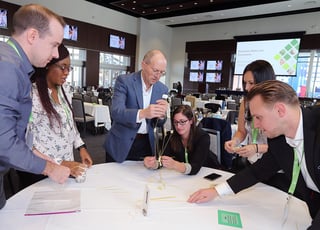 A fun little team building exercise got everyone moving, laughing, and thinking outside of the box. As they raced against the clock, and against one another, small groups illustrated and embodied the passion and teamwork that our employees bring to work every day.
At The End Of The Day | It's All About Teamwork!
The day concluded with a spectacular tour of Gillette Stadium, complete with a company photo on the field, a cocktail reception and chance to socialize over a lovely dinner. At the end of a long and exciting day, we accomplished what we set out to do: socialize; celebrate; reflect; learn; and most importantly, engage in being a TEAM!