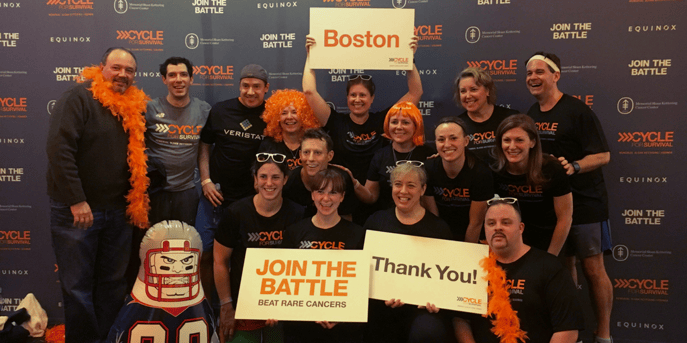 On Saturday, February 4, Team Veristat joined the battle against rare cancers at the 2017 Cycle for Survival event! Team Veristat had 14 riders at the Boston, MA event, including 2 colleagues from our UK office. Our team surpassed our goal of raising over $25,000 to fund rare cancer research!
Thanks to the collective efforts of Equinox and thousand of supporters worlwide, over $30 million was raised for Cycle for Survival in 2016 and they expect to exceed that number in 2017. And the best part is that 100% of every dollar raised goes directly towards research for rare cancers such as lymphoma, pediatric brain cancer, testicular cancer, bladder cancer, multiple myeloma, mesolthelioma, and more.
"A Veristat we have saying "It's not just business, it's personal." And unfortunately, cancer has or will impact us all at some point in our lives. I ride for a dear friend who is currently battling pancreatic cancer. Joining the Veristat Cycle for Survival team has been my way to fight back and support research for rare cancers which are currently under-funded. Cycle for Survival is an amazing experience filled with inspiration and hope! This event serves as an extension of the work that the Veristat teams do every day."

- Cindy Henderson, Executive Vice President of Strategic Development
Veristat would like to thank all of its supporters who donated to Team Veristat and helped us surpass our goal! We thank all of our riders, family members, employees and corporate partners for making this possible!
To see how these efforts and donations make an impact in rare cancer research, visit https://www.cycleforsurvival.org/impact.
Veristat hopes that you will be inspired to #JoinTheBattle in the fight against rare cancers.
More about Cycle for Survival
Cycle for Survival is the national movement to beat rare cancers. About half of all cancer patients are fighting a rare cancer — Leukemia, lymphoma, pancreatic cancer, bladder cancer, ovarian cancer, and all pediatric cancers are just some of the many rare forms of the disease. These patients often face limited or no treatment options. Since 2007, Cycle for Survival has raised over $50 million through its signature high-energy, indoor, team cycling events; funding pioneering rare cancer research led by Memorial Sloan Kettering Cancer Center. Together with the movement's founding partner, Equinox, Cycle for Survival has supported over 100 innovative clinical trials, research studies, and major research initiatives.
100% of every donation funds rare cancer research.