Veristat aspires to make a difference, every day!
As the weather gets colder and we find ourselves in the holiday season, the employees of Veristat decided to make a difference by helping others in their local communities.
Both our corporate headquarters office located in Southborough, MA and our newer office in Raleigh, NC selected local charities to support this year that offer help and hope to local families who are struggling.
Voices Against Violence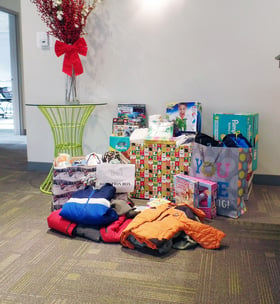 This year, Veristat chose to partner with Voices Against Violence in Framingham, MA, a group with a very specific goal. They provide information, counseling, and support services to families and victims of domestic and sexual violence. Studies have shown that domestic violence often increases during the holiday season, but that families are much less likely to report it during the holidays.
Many of the families who need the services at Voices Against Violence have been displaced from their homes and left with very few resources. The holiday season presents additional difficulties for these families; they are struggling to get by, but just like the rest of us, they all want to give their families some happy holiday memories.
Our Massachusetts-based employees spent three weeks gathering everything from toys to jewelry, from diapers to winter coats, from board games to blankets to donate to these local families in need. In the end, our drop-off boxes were overflowing with donated gifts and supplies that will be shared with survivors of violence!

You can contact Voices Against Violence at their 24-hour hotline (1-800-593-1125) or find resources at http://www.smoc.org/voices-against-violence.php
You can also call the National Domestic Violence 24-Hour Hotline at 1-800-799-SAFE (7233) or find resources at http://www.ncadv.org/
A Doorway to Hope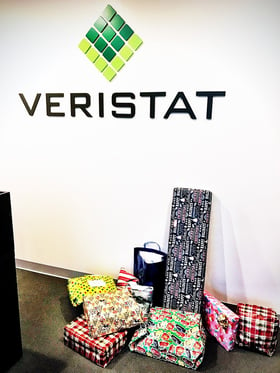 Our new North Carolina office participated in the Angel Tree Project sponsored by A Doorway to Hope. This holiday campaign helps families in-need by providing them with basic necessities and gifts for their children this holiday season. The Veristat team in Raleigh adopted a local family and delivered their gifts earlier this week.
We hope that our donations bring some cheer and joy to local families who may be struggling this winter season.
A Doorway to Hope is a North Carolina based group whose goal is to assist families in achieving economic and personal self-sufficiency. They provide the resources to working, lower income families who are at a crisis point and need temporary help getting back on track.
To learn more, visit: https://www.adoorwaytohope.org/home.html
To make a donation or find other ways to support families in the North Carolina area, visit: https://www.adoorwaytohope.org/donate.html
Make A Difference This Holiday Season & Everyday, With Charitable Giving!
Veristat is proud to provide a helping hand to survivors of abuse or violence and families who need a little extra help this season!
While this is the season of giving, we are proud that our employees work hard all year supporting causes in our industry and local communities.
Learn more about the causes we support not only during the holiday season, but all year long.


We hope that our employees, clients, friends and local communities have a safe and happy holiday season!