One of the many perks at Veristat is that employees are encouraged to take a paid Day of Service every year to spend time volunteering and giving back to their surrounding community. We believe that part of making a difference in the world means making the time to help others.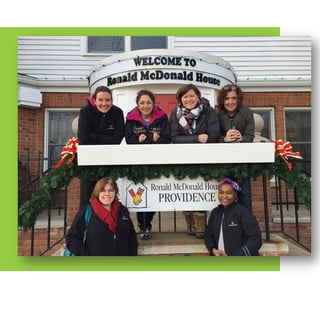 Over the holidays, a team of Veristat employees spent their Day of Service volunteering at the Ronald McDonald House in Providence, RI. The Ronald McDonald House provides a home for families to stay so that they can be close to their hospitalized child at little or no cost. Veristat's team started their day with a tour of the house, and then spent the day sorting through the stockroom. Since many of the items are donated or purchased through donated funds, our volunteers helped by sorting through volumes of personal health and beauty items, cleaning supplies, cooking supplies, food, and children's toys, books and games. The team even sorted out toys to be given to the children for the holidays.
It was a long day of hard, but rewarding work that will ultimately help a child and his/her family as they cope with illness.
"I really enjoyed my Veristat Day of Service at the Providence Ronald McDonald House. It was an awesome opportunity to learn more about the organization and contribute to improving the lives of families with children who are sick. Thank you Veristat for allowing me to have had this experience"
- Kathleen Whalen, Manager of Data Management, Veristat
More About the Ronald McDonald House
The goal of Ronald McDonald House is to keep families together when a child is hospitalized or receives major medical treatment at nearby hospitals. Basically, a Ronald McDonald House is that "home-away-from-home" for families so they can stay close by their sick child at little or no cost. The Ronald McDonald House of Providence provides this to nearly 300 families each year.
The Ronald McDonald Houses are built on the simple idea that nothing else should matter when a family is focused on the health of their child – not where they can afford to stay, where they will get their next meal or where they will lay their head at night to rest. These houses offer home-cooked meals, private bedrooms, playrooms for children, recreational services, counseling support for family members and more.

Visit the Ronald McDonald House to learn more about thier programs and services to families with sick children.
Consider making a donation to the Ronald McDonald Family of Charities today.