This Holiday Season, Veristat is continuing its tradition of participating in the Movement to Beat Rare Cancers!

On behalf of all of our clients, Veristat has made a $12,500 donation to one of the many organizations that we supported this year and will support in 2017, Cycle for Survival. In addition, our employees have committed to raising over $25,000.

Join The Battle!
Help cure rare cancers by donating today!

About Cycle for Survival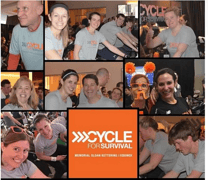 Cycle for Survival is the national movement to beat rare cancers. About half of all cancer patients are fighting a rare cancer -- Leukemia, lymphoma, pancreatic cancer, bladder cancer, ovarian cancer, and all pediatric cancers are just some of the many rare forms of the disease. These patients often face limited or no treatment options.
This is where Cycle for Survival comes in:
100% of every dollar

raised funds pioneering research led by Memorial Sloan Kettering, the world's oldest and largest private cancer center.
$106M has been raised by Cycle for Survival since 2007 to beat rare cancers.
100+ clinical trials, research studies, and major research initiatives have been funded by Cycle for Survival.
Visit Cycle for Survival to learn more!

---
"VERISTAT WISHES YOU A HAPPY HOLIDAY SEASON AND A HAPPY NEW YEAR FILLED WITH HEALTH, HAPPINESS, AND SUCCESS!"

- From All of Us at Veristat!

---