Just last week, in the midst of the daily chaos of building new clinical trial databases, working on impending regulatory submissions, holding project team meetings, and programing tables figures & listings, Veristat paused its operations for one day in order to reflect upon and celebrate its contributions to drug development.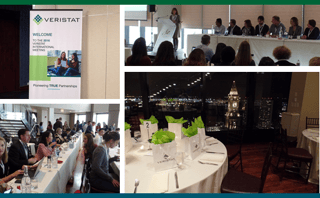 We brought together nearly 200 of our employees from around the world to participate in our annual international All Employee Meeting which took place this year at The State Room in Boston, MA. Overlooking the Boston skyline our team spent an entire day reflecting on why we work so hard every day, examining how we fit into the greater healthcare ecosystem, and celebrating our contributions that help make people's lives healthier, better and longer.
Over the course of the day, we heard about the challenges, triumphs and everlasting hope from a mother & patient advocate, from a biotechnology and pharmaceutical firm, and from a fundraising group dedicated to raising money to fund research to cure rare cancers.

The Patient's Perspective

A dear friend of Veristat shared with us her 8 year journey caring for her son who was born with SMA. She shared her daily struggles that require 24 hours a day of care for her son who has been through dozens of surgeries, countless hospitalizations and requires hours of treatment each day just to stay alive. Despite those daily struggles, she inspired us to stay hopeful and she encouraged us to keep working hard to help bring new products to market that can improve or save lives.

The Sponsor's Perspective

We heard from two of Veristat's current clients who reminded us how important we are to their success. One client has a portfolio of products that can be used to treat numerous types of cancers. He specifically stated that "Veristat was his clinical team and without us, his company wouldn't be able to test their products". Another client told the story of a product that could treat dozens of indications and his company relied on the expertise of his Veristat project team to help him focus his development efforts on the therapeutic areas most likely to help the largest pool of patients.

The Fundraising Perspective

Our final speaker told the story of how a rare cancer diagnosis inspired his wife to wage a battle against cancer by starting a fundraising machine that has raised over $105 million that directly funds research against rare cancers. While she lost her personal battle, her battle cry to beat cancer still rages on today. To learn how you can join the battle, visit Cycle for Survival today.

Closing Thoughts

By the end of the day, we had laughed, we had cried, and we were reminded of why we wake up every morning and come to work to face the challenges of drug development. Our speakers inspired us with the stories of their journey and reminded us that with the power of hope, and a never-ending desire to cure disease, we will continue to make a difference in this world. This is how we (Veristat) contribute to the process of creating cures that improves and saves lives.

How are you helping?

"This meeting was a unique experience for me, as I've worked for many CROs and the company meetings have been rather dry events with lots of financial numbers, some references to backlog, reminders to follow GCP, and maybe a vague suggestion that what we do is important. This was a very welcome change, reminding us of how our hard work makes an impact. Very well done."
Gabe Trout , Senior SAS Programmer, Veristat