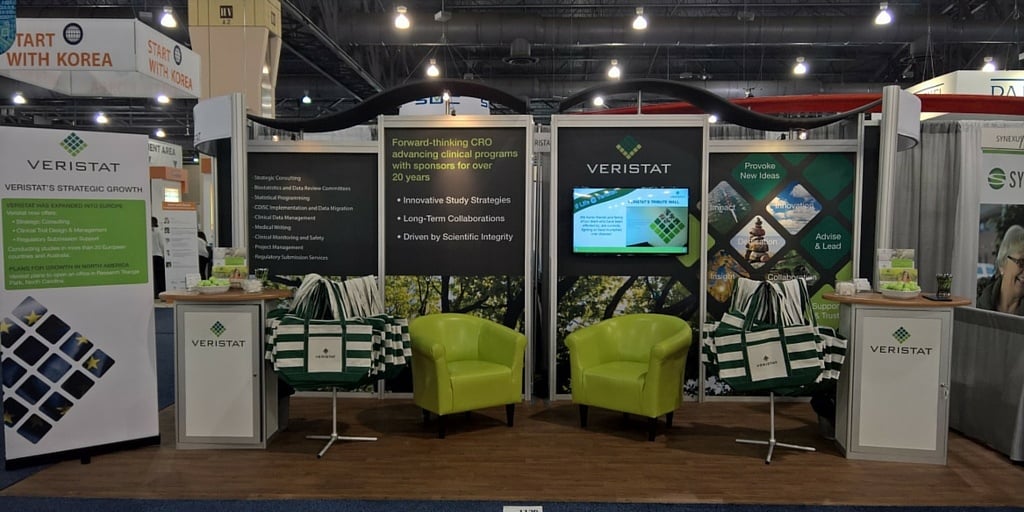 Veristat joined over 6500+ life sciences professionals at the Drug Information Associations (DIA) Annual Meeting that recently took place in Philadelphia, PA. The conference featured over 175 topics in 25 tracks covering the latest innovations, trends, challenges, and solutions faced by drug developers today. The hottest topics of the meeting were related directly to recent industry trends and events, including increased patient safety, the Zika outbreak, harnessing data to find cures, and many more.
In the exhibit hall, Veristat joined 470 other exhibiting firms who support and offer innovative solutions to improve and accelerate drug development. Veristat was excited to promote its recent expansion into Europe, and to announce its plans to open a new office in Raleigh-Durham, North Carolina. We were also delighted to see many familiar faces along with meeting new ones.
WATCH THE VIDEO
See what you missed at DIA, in our time lapse video of the booth on the last morning of DIA.
[youtube https://www.youtube.com/watch?v=0a9zL-YMHjI]
LEARN MORE ABOUT VERISTAT
Veristat can help you manage your entire clinical trial, starting with program design, regulatory agency engagement and study start-up activities. We will identify and qualify the top sites for patient recruitment success. Our oversight continues with clinical operations and biometrics services through to regulatory submissions support and agency representation.
We have teams on the ground throughout North America, Europe, and Australia to support your programs.
If you missed the chance to speak with us at DIA or want to learn more, visit us online at www.veristat.com or email us today.