Connect with Veristat at the CMO Summit,

26-27 October, 2020

Whether you have a compound and need to get started on your IND, or want to recruit patients quickly to get your early phase trials running or just need medical writing or biostatistical support for your programs - Veristat can help. We provide impactful solutions on both a full-service or functional service basis.
Attend our Panel Discussion on Insourcing/Outsourcing:
Veristat joins the discussion on insourcing and outsourcing as your company evolves. As a CMO, you are often faced with balancing the capital expenditures and resources of your organization. You must carefully determine whether to conduct your clincial trials in-house or outsourcing some or all components. Learn the options and how they may impact your organization at the panel discussion.

"Insourcing and Outsourcing as Your Company Evolves"
October 26, 2020 at 1:40 PM
Moderated by Steven Zelenkofske DO, EVP and CMO at Achillion Pharmaceuticals
Meet Veristat Panelist: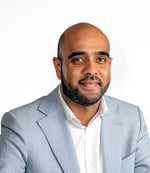 Shaheen Limbada
Executive Vice President, Global Clinical Operations, Veristat

Shaheen Limbada has over 20 years of experience running clinical trials in both the sponsor and CRO setting, including building and successfully selling his own CRO, he excels in the areas of risk management, project management, patient recruitment and clinical study conduct and governance. . In this role, Mr. Limbada oversees Global Clinical Operations including, clinical monitoring, project management, site management and medical affairs. Mr. Limbada graduated from the University of Toronto and quickly began his career in clinical trials with AstraZeneca Canada Inc.
Connect with Veristat Now or At the Virtual Event!
Schedule a meeting by filling out the form on the right. Find out how we can help you advance your next clinical trial or regulatory submission to successful outcomes. Or learn more about our capabilities.
Save 10% Off Your Registration with This Veristat Discount Code
This event is now Virtual and you can register with 10% off by using the registration discount code: VERISTAT10
Learn more about this conference by visiting:
https://theconferenceforum.org/conferences/chief-medical-officer-summit/overview/