Key Lessons Learned during the First Month of the COVID-19 Pandemic Response
As we are well-rooted in the response phase of the COVID-19 pandemic, we have seen a flurry of sponsors looking through their pipelines to find either approved or investigational products that could help treat, diagnose or prevent COVID-19. As such, Veristat spent the first four weeks of the pandemic response supporting five clinical research programs for COVID-19 vaccines and treatments. And, we are rapidly fielding daily requests for more programs.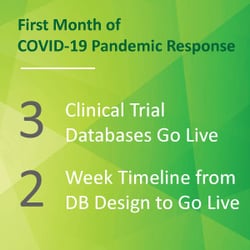 To support this influx of activity, Veristat has established a COVID-19 task force that consists of members across the organization's functional and leadership teams. The task force meets twice a week to review ongoing COVID-19 programs, share lessons learned, and strategize with project teams. Team members include regulatory experts, project managers/directors, biostatisticians, programmers, data managers, site monitors, and management team leaders across all operational department heads, quality assurance, and commercial teams.
Below is a sampling of key lessons learned during the first month of the COVID-19 pandemic response:
Regulations from global health agencies are changing rapidly- learn more at our full

COVID-19 Resource Center
The Coronavirus Treatment Acceleration Program (CTAP) team at FDA is extremely responsive. Requests for feedback on clinical study designs and other development questions have received responses in as little as three days.
For products with existing INDs for other indications, FDA has been requesting submission of new INDs for COVID-19- related indications rather than amending an existing IND. However, they have been very liberal in allowing cross-references back to information already previously submitted in prior INDs.
FDA has accelerated review timelines for COVID-19 related inquiries. However, not all treatments are prioritized equally. For example, antivirals that are ready to initiate clinical studies have been given a high priority, whereas an anti-septic treatment for Coronavirus has not been accelerated to the same extent.
Clinical trial conduct during COVID-19 response introduces new operational challenges to consider:
Intensive Care Unit (ICU) trials are much different than traditional clinical research sites and present their own challenges. There is no single point of contact responsible for the oversight of the clinical trial in the ICU, it is the entire ICU team. Clinical monitors, especially those doing remote monitoring, must work harder to keep entire teams updated.
Protocol amendments are more common- for example COVID-19 trials of agents to treat advanced disease have lacked clarity about how long the patient has been on a ventilator before receiving first dose. In one study, this has already led to a protocol amendment. Similarly, studies of patients with moderate to severe disease in the hospital have not anticipated the push to discharge patients prior to completing the full course of therapy – necessitating amendments to accommodate outpatient follow-up. While protocol development for COVID-19 trials must be accelerated, review by relevant scientific and operational stakeholders is critical to success.
Virtual nature of trials due to lack of site access- a growing trend shows an increase in patients being treated at home for an entire clinical trial. In other instances, they are first treated in a hospital setting, and must return for subsequent treatments or labs. Collection and management of trial data could be affected by this and require innovative approaches that meet all privacy and GCP guidelines.
Personal Protective Equipment (PPE)- Many sites have stated that they are not allowed to use PPE from their hospitals or medical facilities "general supplies" for the conduct of clinical trials, as this could be seen as taking away from their core function – delivering medical care. In cases where we have been able to quickly randomize patients, we found that we/sponsors needed to provide PPE for the site staff as well. Sourcing the PPE is a non-trivial requirement and in current circumstances has required government involvement, given the high demand and prioritization of PPE.
Investigational product (IP) availability has been challenging when the IP is manufactured in another country. In one instance, we are facing patient randomization delays not because we do not have the patients, but we cannot get the IP from China quick enough to dose the patients.
MEET VERISTAT - COMPLEXITY IS OUR SPECIALTY
We understand that the stakes are high, no matter where you are in your development program. The changing regulations and rapid speed with which COVID-19 clinical programs are starting is overwhelming. We have the agility and scientific-minded experts to help you navigate these uncertain times. Get introduced to Veristat today.
---