Each year, Veristat regulatory experts present timely, relevant topics to members of The Organization for Professionals in Regulatory Affairs (TOPRA), a UK-based organization committed to driving regulatory excellence across the healthcare regulatory profession.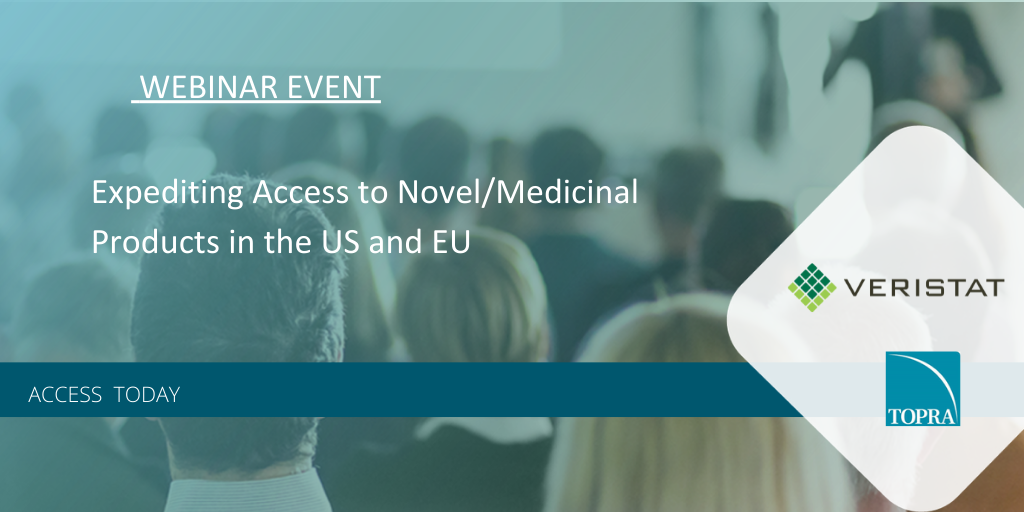 This year, our webinar centered on the challenges and opportunities associated with bringing novel medicinal products to market. No one in the industry will dispute that bringing a novel therapy to market is a long, complex, and expensive process that requires drug developers to balance the need for rigorous testing with the goal of getting medicines quickly to patients who need them. In light of this, both US and European regulatory agencies have developed expedited pathways to accelerate the approval process for therapies that treat serious conditions and unmet medical needs.
During the webinar, Veristat Regulatory experts present how developers of such therapies can utilize some or multiple programs/pathways to accelerate approval in the US and Europe. The webcast highlights the requirements, benefits, and procedures for following the US pathways that include:
Accelerated Approval
Breakthrough Therapy Designation
Fast Track

Priority Review Designation
A comparison of the similarities and differences among US and EU pathway milestones is also explored, and cover:
Accelerated Assessment

Conditional Marketing Authorization (CMA)

Priority Medicines Scheme (PRIME)
Using real-world examples, our Regulatory experts share their experiences, successes, and lessons learned when applying for expedited pathways with FDA and European Regulatory Authorities. The examples bring to light opportunities to increase efficiency when submitting pathways requests with the FDA and EMA, both independently and simultaneously.
Meet Veristat's Regulatory Experts
Hear from our regulatory experts based in Europe and the US who are deeply entrenched in the requirements of FDA, EMA and other key global regulatory entities:
Xavier Luria, MD , Vice President, Regulatory Affairs Europe, Veristat

Dr. Luria has over 15 years experience offering regulatory consulting within the industry, 7 of which included serving as Head of Safety and Efficacy of Medicines at the European Medicines Agency (EMA). Dr. Luria has also spent 18 years in the pharmaceutical industry serving in leadership roles in international clinical development, medical affairs, and drug safety. He is a recognized expert on regulatory systems and benefit-risk assessment.

Mara Holinger, PhD, RAC Senior Vice President, Regulatory Affairs, Veristat .

Mara Holinger is an expert in regulatory agency meeting preparation, moderation and logistical support, and serves as an Authorized Regulatory Representative and US Agent. Mara has written, reviewed or provided oversight for more than 20 Investigational New Drug Applications (INDs), multiple Orphan Drug Designation (ODD) applications, breakthrough designation applications, special protocol assessments, fast track applications and several New Drug Applications, including 505(b)(2).

Kevin Hennegan, MA,Director of US Regulatory Affairs, Veristat

Kevin Hennegan has provided strategic clinical and regulatory guidance to the pharmaceutical, biotech, and medical device industry for over 15 years. He has led and participated in the preparation of many successful FDA filings including Investigational New Drug Applications (INDs), New Drug Applications (NDAs), Biologics License Applications (BLAs), Breakthrough Therapy Designations, Orphan Drug Designations, and Fast Track Applications.
If you are interested in broadening your understanding of how to leverage expedited regulatory pathways to inform your strategy, listen to the webinar.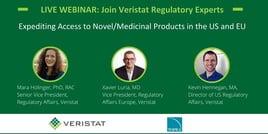 Watch on-demand here
Learn more about our regulatory team here