Clinical trial activity remains strong in the area of new vaccine development, as COVID-19 continues to impart tremendous health and societal impact on our world.
In May 2022, the World Health Organization (WHO) reported there were over 520 million confirmed cases of COVID-19, which includes over 6 million deaths since the start of the pandemic.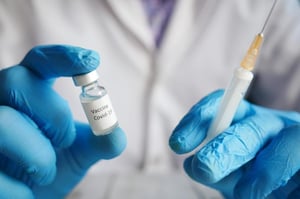 In October 2021, the European Veristat team partnered with our Sponsor, HIPRA Scientific, a Spanish multinational pharmaceutical and biotechnology corporation, to support studies that test the efficacy, tolerability, and safety of their RBD Dimer recombinant protein vaccine against SARS-CoV-2.
RBDCOV: A Project to Further Protect from the Pandemic's Dangers
RBDCOV is one of 11 high-profile projects selected by the European Commission as part of the Horizon Europe Program (2021-2027), the largest program for funding emergency research and innovation to prevent, mitigate and respond to the impact of coronavirus and its variants.
RBDCOV is an ambitious project that will study the HIPRA vaccine in order to protect not only from severe COVID-19 disease but also thwart infection in all vaccinated populations including immunocompromised individuals. The project also aims to elicit long-term memory immune responses after a minimal number of booster doses.
RBDCOV's international consortium represents companies and groups that each play a role in the discovery-to-manufacture-to-commercial release continuum— from the rational design of animal and human vaccine immunogens to vaccine manufacturing, distribution, and commercialization, to cellular and humoral immune responses, clinical trials and regulatory issues. The goal of the consortium is to work collaboratively in order to champion the vaccine's swift and successful approval.
HIPRA leads the RBDCOV consortium and relies on the expertise of its fellow consortium member, the European Veristat team, for critical clinical trial activities. RBDCOV anticipates two clinical trials, one in adults with immunosuppressive conditions such as immunodeficiencies, or those who receive immunosuppressive treatments and whose immune system might be less susceptible to the vaccines. The second study will be comprised of one or more groups of children and adolescents.
RBDCOV has now initiated the Phase III clinical trial of HIPRA's COVID-19 vaccine which will involve 400 immunocompromised adults to be recruited from several internationally renowned hospitals. This clinical trial will determine whether one additional dose of HIPRA's COVID-19 vaccine can generate an immune response in people living with immune system disorders, such as immunodeficiencies or who are receiving immunosuppressant treatments. For this reason, we will study whether the vaccine is capable of reactivating or generating a sufficient immune response again, increasing the activity of the immune system (natural defenses) against the virus. The safety of the new vaccine and whether it can prolong the effect of the vaccination that the participants have already received will also be studied.
Working Together to Solve Complex Challenges
Our work throughout this Phase III study comprised supporting protocol design and development by Veristat's expert medical affairs consultants in collaboration with our fellow consortium members. Additional services in the context of this project span:
Data management
Clinical database programming
Biostatistics and SAS programming
Project management to facilitate overall RBDCOV consortium members' synergy and alignment
Veristat's Data Management and Clinical Database Programming group is proud of our achievements for HIPRA in the RBDCOV project, having designed, developed, and deployed an EDC database at breakneck speed. The study build was created using the IBM Clinical Development system and took an impressive four weeks from design start to full deployment.
Challenging projects such as the RBDCOV project require exceptional teamwork across internal teams and excellent communication with the consortium partners so that each of us can deliver on-demand. This approach has proven to be key in realizing such a huge achievement. I am proud to work with such a dynamic and experienced team!"


-Judith Oribe

Principal Data Manager, Veristat
Since late March 2022, HIPRA has continued to follow a rolling review process of the European Medicines Agency (EMA). HIPRA anticipates receiving conditional marketing authorization in mid-2022 for its 3rd booster dose in adult populations. Vaccine availability will be immediate, as HIPRA has committed to production within a few days of approval. Marketing authorization for the HIPRA's vaccine in immunocompromised populations is anticipated to follow.
Veristat teams have supported more than 50 COVID-19 projects for a broad range of indications including anti-inflammatories, antivirals, antiseptics sprays, cannabinoids, advanced therapies, probiotics, monoclonal antibodies, and vaccines.
COVID-19 is a formidable challenge that demands our continued attention. Veristat is proud to use our bold thinking and scientific expertise to support HIPRA and the RBDCOV project's partners and research teams in the development of a new vaccine to protect society as a whole, including those more vulnerable.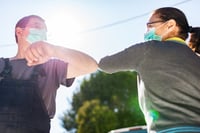 A special thank you to María Expósito Lorido, Project Manager II, at Veristat, for her insightful contributions to this article and for her work as Veristat's Project Manager on the Phase III RDBCOV trial in the immunocompromised population.
For more information on HIPRA and the RBDCOV Project, visit: https://www.hipracovid19.com/en/press
To learn more about Veristat's experience in COVID-19 studies, visit: https://www.veristat.com/covid19-resource-center