In this case study example - yes.
Veristat developed a thorough regulatory submission strategy and novel efficacy endpoint for the treatment of an ultra-rare and aggressive hematologic malignancy that led to FDA and EMA approval following a single-arm phase I/II study.
A small biotech company engaged Veristat early in clinical development for help with a novel biologic being tested for treatment of an ultra-rare and aggressive hematologic malignancy with no available effective therapies.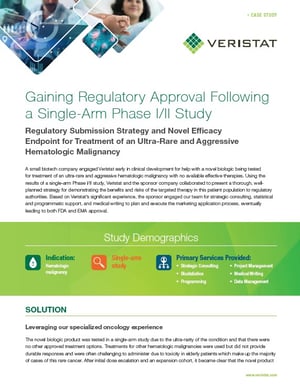 Leveraging our specialized oncology experience
The biologic was tested in a single-arm study due to the ultra-rarity of the condition and that there were no other approved treatment options. Treatments for other hematologic malignancies were used but did not provide durable responses. After initial dose escalation and an expansion cohort, it became clear that the novel product led to an improved response rate and a more durable response that could make significant differences in the patient's quality of life.
Well-planned strategy leads to marketing application success
Using the results of a single-arm Phase I/II study, Veristat and the sponsor company collaborated to present a thorough, well-planned strategy for demonstrating the benefits and risks of the targeted therapy in this patient population to regulatory authorities. Based on Veristat's significant experience, the sponsor engaged our team for strategic consulting, statistical and programmatic support, and medical writing to plan and execute the marketing application process, eventually leading to both FDA and EMA approval.
Access the full case study to learn how Veristat handled nuanced response criteria and developed a novel efficacy endpoint that led to a 2018 FDA approval and 2021 EMA approval.
---
Learn More:
Read more about how to manage operationally complex submissions — as well as tips for data analysis and medical writing in these complicated projects — in our White Paper on the topic: "Successful Preparation Strategies for NDA/MAA Marketing Applications."
You can also read our advice for medical writing management during simultaneous submissions and navigating operationally complex submissions in our other blog posts.
---
Explore Related Services: