In 1964, a child's chance of surviving the most common form of Leukemia was 3%. Today it has increased to 91%!
Although progress is being made, more advances need to be made to bring treatments that are effective and minimize the long-term impact on the patient's quality of life. Veristat has been a contributor to this effort to bring new cures.
Veristat supports countless clients who are working on bringing new innovative therapies through the clinical development and regulatory approval process for drugs that combat the various forms of Leukemias and Lymphomas. The most recent submission approval that Veristat supported was TIBSOVO from Agios Pharmaceuticals - to treat adult patients with relapsed or refractory acute myeloid leukemia (R/R AML).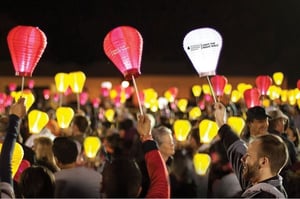 For the third consecutive year, Veristat is walking in the Light the Night Boston Walk for the Leukemia and Lymphoma Society and is collecting donations toward finding a cure to Leukemia, Non-Hodgkin's Lymphoma and other blood cancers. LLS uses the funds that are raised to help provide education and support services for patients, their families, and caregivers.
Make A Donation To Support Team Veristat Today
Help us make Cancer run! Donate today to support Team Veristat in our drive for a world free of blood cancers.
---
Key Related Services: